Client News: Ally Charlotte Center caps office tower with branded, illuminated, custom-engineered SKYSHADE polycarbonate system by EXTECH
Posted on November 22nd, 2021 by Heather West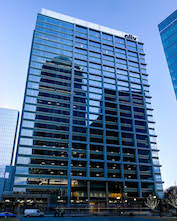 Completed in May 2021, Ally Charlotte Center's new, contemporary, Class A mixed-use office tower rises 26 stories and spans 750,000 square feet. Positioned at the gateway to Uptown and at the South End entrance to the burgeoning Stonewall Corridor, it adds a new dimension to the evolving skyline in Charlotte, North Carolina.
Following four years of development and construction, the project earns its place as a new landmark. With respect to its footprint, the project is pursuing certification through both the U.S. Green Building Council's LEED program and the International WELL Building Institute.
Designed by Little Diversified Architectural Consulting the building's illuminated, branded crown was created by EXTECH/Exterior Technologies, Inc. EXTECH custom-engineered its SKYSHADE 8000® long-span, high-load, structural polycarbonate glazing panel system. The 16,950-square-foot system was installed by EXTECH.
Connected, centralized, comfortable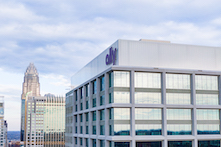 As general contractor, Brasfield & Gorrie oversaw demolition of the former auto repair shop and construction of the core and shell of the building, as well as the interior build-out for Ally Financial. Conveniently located near I-277 and the LYNX light rail, it offers a centralized, collaborative, open-plan work environment. Through a phased move-in process, nearly 2,100 Ally Financial employees will come together from across the city to occupy 400,000 square feet on 23 floors of the tower.
The building's developer, Crescent Communities, and other commercial tenants lease the remaining office floorspace with shared access to the 1,400-space parking garage. A ground-level 12,000-square-foot public plaza, surrounded by 30,000-square-feet of shops and restaurants, s the development.
The tower's design and construction ensure high levels of digital connectivity and an emphasis on health and wellness in the workplace. Ally Charlotte Center is WIRED Certified Platinum, the highest level possible and the first Platinum Wired certification in Charlotte. The building also is designed and built to achieve, at minimum, LEED Silver for both core and shell, and for commercial interiors. It also is seeking WELL certification for both the building and for the Crescent Communities 8th floor office.
Signature appearance, proven performance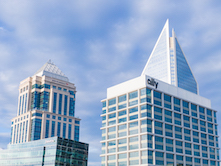 For Ally Charlotte Center, EXTECH's SKYSHADE system and opal-hued polycarbonate panels produce a lantern effect, warmly beckoning and signaling its iconic stature in the community. Securing a carefully branded appearance, EXTECH engineered its system with custom outriggers, anchors and pins to display the large Ally logo on the Northwest and Southeast elevations.
Maintaining the intended aesthetic required a high-performance system. The 25-foot-high panels are rigidly framed in metal with supporting, vertical, tubular mullions behind the screen wall. The assemblies were tested for structural performance according to ASTM E 330. EXTECH's SKYSHADE 8000 also has been successfully tested for impact resistance and is rated Class A for flame spread and smoke generation. The panels also feature a UV-resistant finish. The system is specially designed to accommodate thermal movement and for high wind and snow loading.
"Wind was a big factor on the top of the skyscraper," said Jim Leslie, EXTECH's general manager. "The SKYSHADE 8000 is built with our patented aluminum clamping framing system."
He elaborated, "SKYSHADE 8000 primarily is used for long-spanning, standing-seam canopy structures. Our unique, patented design offers continuous glazed panel runs up to 54 feet long without leak-prone intermediate horizontal mullions. For Ally Charlotte Center, we essentially re-engineered our high-performance sloped canopy system for a vertical, wall application. Installed on all four sides of the building's roof, the longest runs span more than 230 feet."
Functional, sustainable, exceptional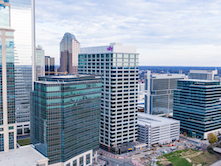 Enhancing the building's clean, sophisticated look, the polycarbonate panel system also has a practical function; it conceals the rooftop mechanical equipment and lights. EXTECH installed the panels 7 feet from the building's exterior edge allowing a walkway for maintenance and repairs. EXTECH also engineered doors into its system to facilitate safe access.
Throughout their long lifespan, the polycarbonate and metal assemblies require minimal cleaning. If a panel is damaged, the modular system makes it easy to replace. The system's longevity, low maintenance, recycled and low-VOC content, and recyclable materials also contribute to the project's sustainability goals.
EXTECH's team took a hands-on approach to ensure it met all the project's priorities. Not only did they work closely with the installing contractor and architect, but also with CD+M Lighting Design Group, which integrated the backlighting for the polycarbonate system. Leslie noted, "There were multiple site visits, mock-ups, architectural drawings and submittals."
Once the system design was approved, EXTECH fabricated it at its quality-controlled facility in Pittsburgh. As much as possible was pre-assembled for a precise fit. Corner panels were factory-formed, extruded aluminum edge trim was shop-applied and access doors were shop-fastened for fast, accurate installation at the jobsite. Leslie added, "Due to the rooftop location, materials were hoisted and staged according to a precisely executed plan."
Unwavering vision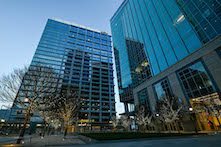 From its branded roof to its street-level plaza, Ally Charlotte Center is set back from the corner of Tryon and Stonewall Streets. This shift in the building line away from the street edge creates a welcoming "front porch" space including outdoor dining, retail, plaza and seating areas, where people can engage with one another and the greater community. A mature live oak tree, relocated from Johns Island, South Carolina, and an allée of 14 ginkgo trees anchor the corner.
"Little is extremely proud to have worked on Ally Charlotte Center since its inception in 2007, and to have been a part of such an incredibly diverse team of developers, architects, engineers, and contractors," shared the team at Little Diversified Architectural Consulting. "We hope Ally Charlotte Center is the catalyst for community growth and engagement, the project's main vision since its inception."
"We've had an unwavering vision about the type of commercial community such a location merited," said Brian Leary, former CEO Crescent Communities. Now retired, he announced the planned project as "for the ideal corporate tenant who'd appreciate a talent-centered and wellness-focused workplace... conceived from the inside-out with each design decision made in support of creating an environment wholly supportive of a talented and diverse workforce."
Leary added, "We believe an office tower is more than steel and glass and are honored to be delivering on this for such a community-oriented organization such as Ally."
Announcing the project's completion, current chairman and CEO at Crescent Communities, Todd Mansfield, offered his compliments: "Ally Charlotte Center's amenities, office layout, outdoor space and appealing retail mark a new era of the workplace and one that we'll be proud to call our new home base."
"Ally Charlotte Center will give our teammates a best-in-class workspace to share ideas and collaborate – something so critically important to our culture. The new facility will also be an asset to Charlotte's vibrant center city," concluded Jeff Brown, CEO of Ally Financial.
**
Ally Charlotte Center; 601 S. Tryon St., Charlotte, NC 28202; https://www.allycharlottecenter.com
• Developer: Crescent Communities; Charlotte, North Carolina; https://www.crescentcommunities.com
• Architect: Little Diversified Architectural Consulting; Charlotte, North Carolina; https://www.littleonline.com
• Lighting designer: CD+M Lighting Design Group; Atlanta; https://cdmlight.com
• General contractor: Brasfield & Gorrie, LLC; Birmingham, Alabama; https://www.brasfieldgorrie.com
• Polycarbonate wall system – manufacturer and installer: EXTECH/Exterior Technologies, Inc.; Pittsburgh; https://extechinc.com
• Photography courtesy of Crescent Communities
EXTECH/Exterior Technologies, Inc.'s mission is to improve lives through innovation in daylighting systems, natural ventilation and other unique building envelope systems. Redefining the intersection between the natural and built environments, EXTECH manufactures and designs wall, window, skylight, canopy and custom façade systems.
Learn more by calling 800-500-8083, emailing info@extechinc.com or visiting https://extechinc.com.
###
---
Filed under: Projects
---
Story Resources
Word document
Request high res photographs for publication