Client News: Tubelite's new 400TU Series thermal curtainwall meets today's stringent energy codes
Posted on October 28th, 2015 by Heather West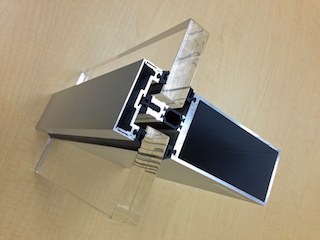 Designed for today's stringent energy codes, Tubelite Inc. introduces 400TU Series high-performance thermal curtainwall system for medium- and low-rise commercial buildings. Combining aluminum framing, dual thermal strut and high-performance insulated glass, 400TU Series dual-glazed achieves industry-leading U-Factors of 0.30 for thermal transmittance and a frame condensation resistance factor (CRFf) of 81.
Thoroughly tested by an independent laboratory, Tubelite's 400TU Series curtainwall demonstrated that it meets or exceeds ASTM and AAMA industry standards for air, water, structural, thermal, acoustical and seismic performance. The 400TU Series curtainwall's enhanced thermal break is located in the tongue area of the back member, and the insulated glass is positioned to the system's exterior for enhanced resistance to rainwater. In addition to thermal performance, this curtainwall system is tested to meet acoustical performance ratings for Sound Transmission Class (STC) 38 and Outdoor-Indoor Transmission Class (OITC) 32.
Assembled using screw spline or clip joinery, 400TU Series can be specified with either an aluminum or polyamide pressure plate, and as a stick-built system or shop-assembled into "ladders" for field glazing. Verticals can be steel-reinforced for strong windloads. The system's 6-, 7.5- and 10-inch system depths can accommodate glass or panels of 1- to 1.75-inches thick, and easily integrates with Tubelite's Therml=Block® entrance systems.
Tubelite's 400TU Series can be extruded using EcoLuminum™, a high recycled-content aluminum billet composition with eco-friendly, durable finishes. Seven anodized finishes and 20 standard paint colors are available, and upon request, blended and custom colors may be specified.
Durable finishes reduce buildings' maintenance costs and enhance long lifecycles. Coupled with 400TU Series' recycled aluminum content, daylight, views, energy-efficient thermal performance and condensation resistance, these attributes also may support projects seeking LEED® certification or other green building criteria.
###
---
Filed under: FGIA, Products, Tubelite
---
Story Resources
Photo 1
Word document
Request high res photographs for publication