Client News: Rockfon North America facility begins production
Posted on July 19th, 2017 by Heather West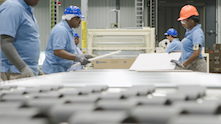 Rockfon, a part of Denmark-based ROCKWOOL Group, started production today of stone wool acoustic ceiling products at its first North America manufacturing facility. Located in Marshall County, Mississippi, this Rockfon state-of-the-art facility is the company's fifth stone wool ceiling production site globally. Its complete ceiling product offering combines Rockfon® acoustic stone wool and specialty metal ceiling panels with Chicago Metallic™ suspension systems.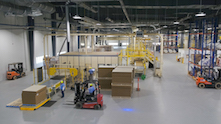 The ROCKWOOL Group, the world's largest manufacturer of stone wool products, invested approximately $40 million in the new 130,000-square-foot (12,000-square-meter) Rockfon North America facility. With support from colleagues at ROCKWOOL and its worldwide network, the U.S. production line began as scheduled and is operating as anticipated. (Click here to see a video of the Rockfon North America facility and the first of its stone wool ceiling panels made in the U.S.)
"We are excited to have our first Rockfon North America facility open and operating as planned," says Rockfon President – Americas John Medio. "We listened to the North American market and heard its growing demand for our stone wool acoustic ceiling products. Our new facility is a game-changer in the U.S. ceiling products industry. It extends our capacity across the globe and positions us well for future expansion."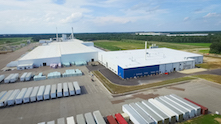 Rockfon's new facility in Marshall County is located adjacent to an existing manufacturing center for ROXUL®, an affiliated operating company under the ROCKWOOL umbrella in North America. ROXUL manufactures a full line of residential, commercial, industrial and roof board stone wool insulation products.
Trent Ogilvie, North American president of ROXUL Inc., welcomes Rockfon and notes, "ROCKWOOL continually demonstrates its commitment to and investment in our North American market. The successful completion of Rockfon's first U.S. facility responds to the increased demand for stone wool products, and paves the way for further growth and innovation."
Medio agrees and adds, "As part of ROCKWOOL, we are fortunate to draw from our global network to support and accentuate the strengths of our local resources. Together with our distributors, we are increasing our share of the ceiling panel market in North America."
Medio continues, "Today, we are proud to say our complete ceiling systems are 'Made in the U.S.A.' Producing locally makes it easier and faster to supply our customers and distributors with Rockfon's high quality products. Reduced lead times as well as a comprehensive inventory program maintained in our strategically located U.S. warehouses offer increased service levels to our customers."
Essential to its operations, a well-trained workforce supports Rockfon's high quality standards. More than 90 jobs from management level to skilled production staff have been created with this new facility. The majority of Rockfon's new colleagues live in or near Marshall County, Mississippi. These jobs contribute to the healthy economy of the state and the nation.
Rockfon will host a grand opening celebration and tours of the stone wool ceiling manufacturing facility in Mississippi later this year.
To learn more about Rockfon stone wool ceiling panels, metal ceiling panels and suspension systems, please visit www.rockfon.com. For additional support, please call 800-323-7164 or email cs@rockfon.com.
About Rockfon
Rockfon is part of the ROCKWOOL Group and is offering advanced acoustic ceilings to create beautiful, comfortable spaces.
At the ROCKWOOL Group, we are committed to enriching the lives of everyone who experiences our solutions. Our expertise is perfectly suited to tackle many of today's biggest sustainability and development challenges, from energy consumption and noise pollution to fire resilience, water scarcity and flooding. Our range of products reflects the diversity of the world's needs, supporting our stakeholders in reducing their own carbon footprint along the way.
Stone wool is a versatile material and forms the basis of all our businesses. With approximately 10,500 passionate colleagues in more than 35 countries, we are the world leader in stone wool solutions, from building insulation to acoustic ceilings, external cladding systems to horticultural solutions, engineered fibers for industrial use to insulation for the process industry and marine and offshore.


###
---
Filed under: Rockfon
---
Story Resources
Photo 1
Photo 2
Photo 3
Request high res photographs for publication