Association News: Networking opportunities available in-person, online for 2021 FGIA Hybrid Fall Conference
Posted on September 15th, 2021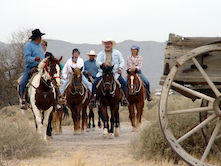 Schaumburg, Illinois - A range of opportunities to network will be available for both those attending in-person and online at the 2021 Fenestration and Glazing Industry Alliance (FGIA) Hybrid Fall Conference, Oct. 18-21. The in-person event will be held in Phoenix, featuring the chance to go horseback riding or golfing. Both in-person and virtual participants will be able to attend a masquerade-themed celebration with a photo booth.
"We have been very focused on building networking opportunities into the schedules for both the in-person and virtual sessions," said Florica Vlad, FGIA Meetings Manager. "There will be multiple options for anyone who wishes to connect and make new contacts in the industry while also enjoying some relaxation time."
Horseback Riding
In Phoenix, enjoy a horseback riding experience at Koli Equestrian Center, located in the heart of the Gila River Indian Reservation on Mon., Oct. 18. This networking event includes transportation from the Sheraton in an open-air hay wagon. During this 60-minute horseback ride, participants will experience breathtaking scenery along trails with wide open views of the landscape. This optional event costs $110 (USD) per person, which includes tax, gratuity and transportation. Space is limited, so register now before Sept. 24 to secure a spot.
Golf Outing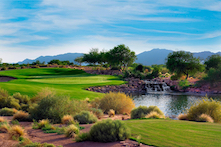 At Whirlwind Golf Club, in-person conference participants can play the Devils Class Course on Mon., Oct. 18 for a fee of $185 (USD) per player. This includes cart, range balls and round-trip transportation. The golf course is not within walking distance, so use of the provided transportation is encouraged. This golf outing has an 8 a.m. shotgun start. Register before Sept. 24.
Masquerade Celebration and Happy Hour Events
During the in-person event, FGIA will host a masquerade-themed celebration, during which participants will be invited to take advantage of a photo booth in costume and to display singing skills during karaoke. For those who do not bring a costume or decorative mask, FGIA will offer complimentary options. There will be a prize for the best mask and costume for both the virtual and in-person events, along with prizes for karaoke. Virtual participants will have their own masquerade-themed happy hour, complete with a costume option and customized FGIA Zoom backgrounds provided in advance to all virtual conference registrants.
Registration is now open for both the in-person and virtual options. Early bird registration ends Sept. 24.
For more information about FGIA and its activities, visit https://FGIAonline.org.
Your trusted industry resource, setting the standards for fenestration and glazing.
###
---
---
Story Resources
Word document
Request high res photographs for publication