Client News: Rowan University's new Holly Pointe Commons strives for inclusivity and sustainability, relies on Wausau's windows
Posted on July 18th, 2017 by Heather West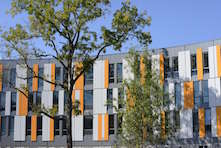 The grand opening of Holly Pointe Commons welcomed more than 1,400 students to the new, $145 million residence hall on Rowan University's campus in Glassboro, New Jersey.
Designed and constructed with accessibility and sustainability goals, the facility meets the requirements of the Americans with Disabilities Act (ADA) and is targeting LEED® Silver certification through the U.S. Green Building Council. Supporting the project's performance criteria and condensed construction schedule, Wausau Window and Wall Systems provided nearly 1,500 window units to glazing contractor Newman Glass Works.
Modern Look, Serpentine Shape
Rowan's vice president for student life and dean of students, Richard Jones, stated, "Our students love that Holly Pointe Commons is a gateway to campus. The complex has a progressive, forward-thinking design that speaks to who we are as a University. Its unique design gives students the ability to be their authentic selves and to be part of learning communities that are so critical to their success."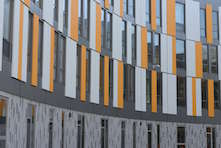 Designed by Erdy McHenry Architecture, the 303,000-square-foot building showcases a modern aesthetic and serpentine-shaped footprint. Standing 75 feet high, Holly Pointe Commons includes a four-story and a seven-story building interconnected by a study bridge. Its façade is constructed of metal panels and Wausau 2250i INvent™ Series windows.
Fast-Track Design-Build
Torcon, Inc. served as the construction management firm for the design-build project. Construction began in June 2015 and was completed just 14 months later, in time for the start of the 2016 semester. Traditionally, a project of similar size and complexity could take more than three years. The team credits the collaborative effort process and Wausau's comprehensive product offering in the project's speedy success.
"Torcon raved about the performance of Wausau and Newman, saying, 'This is, hands-down, the easiest window package we have ever dealt with on a project. The glazing package has been the best performing trade on site,'" shared Wausau's architectural sales representative, Jason Green.
Green added, "We support local control of scope of work, project management and approval as facilitated by our knowledgeable team and engineering tools. We are proud to offer our competitively priced, pre-engineered products on an accelerated delivery schedule to meet the needs of fast-paced projects, such as Holly Pointe Commons."
Accessible and Attractive
On the new student residence, Newman Glass Works installed a combination of fixed and operable units. To help ensure that fresh air and a connection with the outdoors are made accessible to people with limited physical abilities, Wausau's project-out windows comply with the university's ADA requirements where specified. This means the windows are laboratory-proven capable of operating with one hand, using a force of 5 pounds or less, to unlock, open, close and lock, without tight grasping, pinching or twisting of the wrist.
Maintaining Wausau's reputation for industry-leading high performance, no reductions in air, water or structural performance were necessary in laboratory testing of Wausau's accessible windows. "We also were able to provide the same look across all hardware options, and to maintain the same sightlines for both the fixed and operable windows," noted Green.
Energy-Efficiency and Durability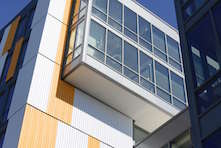 Beyond accessibility and aesthetics, a polyamide thermal barrier within the 2.5-inch aluminum framing enhances the performance of each window. Further contributing to the project's sustainability goals, the aluminum used to produce Wausau's window systems is a high recycled-content aluminum billet composition.
Linetec provides the thermal improvement services for all of Wausau's aluminum products, as well as the finishing. Many of the window units showcase dual color finishes with Bright Silver on the exterior and Medium Gray on the interior. The remainder was painted in Medium Gray on both surfaces. All of the aluminum framing members were finished in a three-coat, metallic, 70 percent polyvinylidene fluoride (PVDF) resin based, liquid paint.
As a recognized, environmentally responsible finisher, Linetec captures the liquid paints' volatile organic compounds (VOCs) content using a 100 percent air capture system and safely destroys the VOCs with a regenerative thermal oxidizer. Linetec then re-uses its heat energy byproduct to improve process energy efficiency. This process of re-use is completed before the material exits the paint line.
Applied under Linetec's stringent factory-controlled processes, these finishes meet the American Architectural Manufacturers Association's (AAMA) 2605 industry standards, as well as minimize buildings' maintenance costs and maximize long lifecycles.
Room to Grow
In seven years, Rowan University's enrollment is expected to reach 25,000, a significant increase from the current 17,000 students. Of these, the 1,415 students living at Holly Pointe Commons include freshmen, sophomores and transfer students. The new building provides student housing as the university's population continues to grow.
The residential complex was designed with the needs of freshmen and sophomores in mind. Rooms are organized in pods that include a mix of student bedrooms, lounge and study spaces, bathrooms and laundry rooms. The pods provide spaces to help students build a sense of community in the hall.
Honoring the Legacy
The name of the complex pays homage to the site's history at a historically busy intersection where Glassboro's commercial and residential districts have converged for more than 200 years. The name "Holly" refers to the American holly, which grew in and around the woods near campus. Rowan has a tradition of naming residence halls after trees, beginning in 1927 with Oak and Laurel, the first residence halls at the institution. "Pointe" describes the location at the eastern tip of campus. "Commons" refers to a public gathering place used jointly by residents of a community.
Even the building's two eateries give a nod to Glassboro history. The name Glassworks Eatery honors the borough's past as one of the most prominent glass manufacturing communities in the nation in the 19th century. BB's C-Store honors the legacy of Bathsheba Heston Whitney, matriarch of the Whitney family, which built a glassmaking empire in town.
Collaborative and Inclusive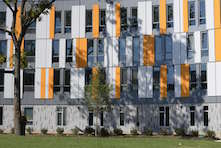 Through the University's first-ever public-private partnership to develop on-campus housing with a private developer, Rowan entered into an agreement to construct the building with University Student Living (USL) of Marlton, the comprehensive housing company of The Michael Organization, and Provident Group-Rowan Properties LLC, a wholly owned subsidiary of Provident Resources Group, Inc. representatives from the development partners attended Holly Pointe Commons' grand opening in September with Rowan's president, Ali Houshmand, and vice president for student life and dean of students, Richard Jones.
"We've built something very, very special here through the power of public-private partnerships," Houshmand said. "Our students get to live in the finest residence hall we can provide."
Holly Pointe is one of USL's most creative projects, according to Joe Coyle, USL president, whose company has developed student housing nationwide. "Holly Pointe Commons was an ambitious project that was accomplished due to all the stakeholders' willingness to adhere to strict deadlines and to accelerate the decision-making process. It is a textbook example of how the University, city government and private industry worked together to achieve something great for the students, campus and surrounding community."
Rowan senior vice president, Donald Moore, was quoted in The Whit campus paper as saying, "We wanted it to be creative, we wanted it to have capacity also, to house as many students as we possibly could. We didn't want to have anyone who was excluded."
The inclusive aspects of the Commons embrace a gender-neutral ideology. Students living in the dorm have been allowed to select their own roommates without restrictions on gender and each set of men's and women's restrooms are located next to or near a gender-neutral restroom as well.
"Because of the shape and the architecture of it, it really is inclusive," Houshmand told The Whit. "It is like you are hugging."
**
Holly Pointe Commons, Rowan University; 29 Mullica Hill Rd., Glassboro, New Jersey 08028; http://www.rowan.edu/studentaffairs/reslife/reshalls/index.html
• Development partners:
– University Student Living, LLC, the comprehensive housing company of The Michael Organization; Marlton, New Jersey; https://themichaelsorg.com/usl
– Provident Group-Rowan Properties LLC, a wholly owned subsidiary of Provident Resources Group, Inc.; http://www.provident.org
• Architect: Erdy McHenry Architecture; Philadelphia; http://em-arc.com
• Construction manager: Torcon, Inc.; Red Bank, New Jersey; http://www.torcon.com
• Glazing contractor: Newman Glass Works; Camden, New Jersey
• Glazing systems - manufacturer: Wausau Window and Wall Systems; Wausau, Wisconsin; http://www.wausauwindow.com
• Glazing systems - glass fabricator: PPG Solarban® 60; http://www.ppgideascapes.com
• Glazing systems - finisher: Linetec, Wausau, Wisconsin; http://www.linetec.com
• Photos courtesy of: Rowan University ©2016 Joel Schwartz
• Time lapse video: http://www.rowan.edu/adminfinance/facilities/capitalprojects/EarthCamTL_Torcon_RowanUniversity.mp4

Nationally recognized for its innovative expertise, Wausau Window and Wall Systems is an industry leader in engineering window and curtainwall systems for commercial and institutional construction applications. For 60 years, Wausau has worked closely with architects, building owners and contractors to realize their vision for aesthetic beauty, sustainability and lasting value, while striving to maintain the highest level of customer service, communication and overall satisfaction. Wausau is a part of Apogee Enterprises, Inc., a publicly held, U.S. corporation.

Wausau and its staff are members of the American Architectural Manufacturers Association (AAMA), the American Institute of Architects (AIA), the APPA – Leadership in Educational Facilities, the Construction Specifications Institute (CSI), Glass Association of North America (GANA), the National Fenestration Ratings Council (NFRC) and the U.S. Green Building Council (USGBC).
---
Filed under: FGIA, Linetec, Projects, Wausau Window and Wall Systems
---
Story Resources
Word document
Request high res photographs for publication