Association News: AAMA market study results and industry forecast discussed at AAMA Summer Conference
Posted on June 14th, 2018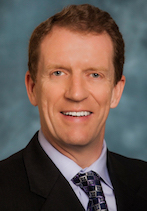 In a members-only session at the American Architectural Manufacturers Association (AAMA) 2018 Summer Conference, Nick Limb, board member and managing principal at Ducker Worldwide, gave a presentation about the latest AAMA market study, including information about its most recent results as well as the methodology behind how it is conducted. The market study, which contains three smaller studies and was updated and released last month, is an AAMA member benefit and can be purchased in AAMA's Online Store.
Ducker performs market research in several industries, including building and construction. Limb noted that the most recent AAMA study showed what many suspected: The economy is currently strong and stable, including in the fenestration industry. Limb said to expect to see that continue for the next three years, at least.
"Current and historic market assessments are conducted using multi-faceted primary market research throughout the value chain," explained Limb of Ducker's methodology. "Manufacturers and suppliers are interviewed, and secondary research is used to support the overall analysis."
Interviews with AAMA member and non-member companies are conducted following responses to interview requests, with a residential focus on original equipment manufacturers and a non-residential focus on material suppliers. Limb said that responding to an interview request from Ducker helps to support efforts related to the AAMA market study.
"Responding to interview requests makes the research stronger and that benefits you," said Limb.
Ducker does not rely on a "survey says" approach. Data from multiple sources is triangulated, and Ducker's extensive internal database and network is key.
"There's a big representation of the industry in the research," he added, saying Ducker has more than 50 percent participation of the market, "leaving us in good shape for rigorous analysis."
Next, Limb reviewed results from the May 2018 study, noting that non-residential growth lags behind residential, but the industry outlook remains strong.
While renovation activity grows steadily, there has not been the same demand for windows and doors as other product categories in the renovation market. Instead, homeowners are focusing on the exterior, kitchen and bath.
New home construction continued to grow 3.3 percent in 2017, and there is a growth forecast of 8.3 percent for 2018.
"We are still well below peak levels from back in the mid-2000s," said Limb.
A new feature to its work is that Ducker is now tracking building and construction material trade expenditures as published by the U.S. Census Bureau on a monthly basis. Combined expenditures were up 7.6 percent in 2017, although commodity price inflation factored into this growth.
When it comes to non-residential construction, Limb reported that contract awards are the leading indicator of non-residential construction demand and that those were up 4 percent in 2017.
Limb concluded by offering a forecast, stating that Ducker sees 4 percent renovation demand growth in 2018, 3 percent growth in 2019 and 3 percent in 2020.
"There's good growth demand across all categories for 2018," said Limb. "We see that moderating somewhat in 2019 and into 2020. We see a healthy market and a strong forecast for the future."
More information about AAMA and its activities can be found via the AAMA website, https://aamanet.org.
AAMA is the source of performance standards, product certification and educational programs for the fenestration industry.SM
###
---
---
Story Resources
Portrait: Nick Limb
Request high res photographs for publication