Association News: AAMA conference kicks off with workshop about new AAMA website features, tools
Posted on June 19th, 2017 by Heather West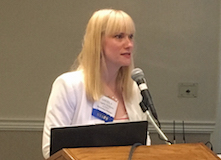 Supporting its recently redesigned website, the American Architectural Manufacturers Association (AAMA) hosted workshops covering the site's new features during the AAMA National Summer Conference, June 18-21 in Newport, Rhode Island. Marketing Manager Angela Dickson led two sessions, guiding members and users through the new look of the site and how to use its latest tools. For those unable to attend during the event, a webinar covering these tips and tricks will be held July 18 and is open to the industry.
"The new features to the site are advantageous to everyone, in the sense that they both improve the user experience across all devices and also boosts AAMA's results in relevant online searches," says Dickson. "We're pleased to show off the new look, as well as ways to better serve our members."
With the new AAMA member dashboard, which is customized to each individual user, members can request to join committees and task groups, add their social media handles along with a profile picture and use a comprehensive member directory to network with other members before they attend an in-person event like the Summer Conference.
Future updates include online event registration, personalized ballot listings and content recommendations throughout the site, as well as increased integration with the AAMA member database.
To attend the complimentary webinar in July, register online. More information about AAMA and its activities can be found on the AAMA website, www.aamanet.org. View past webinars here.
AAMA is the source of performance standards, product certification, and educational programs for the fenestration industry.SM
###
---
---
Story Resources
Photo: AAMA Marketing Manager Angela Dickson
Word document
Request high res photographs for publication