Client News: New York's The Forge showcases distinctive, copper anodized, aluminum wall panel system
Posted on June 5th, 2018 by Heather West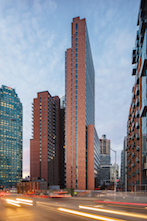 Opened this spring, The Forge, a 272-unit luxury residential tower in Long Island, New York, features a façade of copper-colored anodized aluminum cladding. Designed by FXCollaborative, its distinctive, artistically inspired, industrial-influenced, exterior is composed of Dri-Design's aluminum wall panel system finished by Linetec. The project is pursuing LEED® Silver certification.
Developed as a "village in a building" by Brause Realty Inc. and Gotham Organization, the wedge-shaped site and stringent zoning requirements led The Forge to take a slender form with stepped massing in a neo-modernist style. While it is a single 38-story, 266,000-square-foot structure, the property appears as if it could be three separate wafer-like buildings set side by side with a fourth, far shorter, one nestled at the foot of the other three.
On the south elevation, where the dominant street grid meets the elevated Thomson Avenue, the building's thin slabs are stacked and angled to follow the diagonal avenue. Each of the south elevation's slabs measures no more than 20 feet wide and stretches to the pinnacle uninterrupted by openings. The other elevations also showcase the copper-anodized cladding punctuated by julienne strips of windows to maximize daylight and views toward the East River and Manhattan, all while preserving outdoor zones.
Entire elevation of copper-anodized aluminum cladding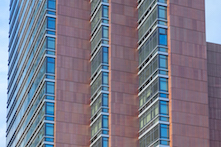 It is on The Forge's south side that the copper-colored aluminum wall system clads the entire height of the building, accentuating its vertical presence.
To create the industrial metallic look specified by FXCollaborative, Linetec finished more than 92,000 square feet of Dri-Design panels in a proprietary copper color anodize and painted an additional 4,800 square feet in a Black Iron color.
Dri-Design's Tyler Fowler says, "Linetec's copper anodized finish was the look that the architect designed around. The natural variation that is expressed on the façade through the copper anodizing process was a desired look."
"Whether creating a dramatic new design, or conveying a historic depth and heritage, the classic beauty of copper brings a rich, distinguished look to architectural building projects," elaborates Linetec's Tammy Schroeder, LEED Green Associate. "Today, with our exclusive copper-colored anodize for aluminum, you can achieve the look of real copper and lasting luster, without such shortcomings as salt run-off stains, galvanic corrosion, patina or intensive maintenance. Anodized aluminum also weighs less than half of real copper, for easier transportation and installation."
Linetec's proprietary and warrantied finish is accomplished through a three-step electrolytic coloring method, rather than the standard two-step process. The resulting finish remains a bright copper color, with no patina over time. It does not require a clear coat or ongoing treatment to maintain color stability. It is available for extrusion, stretch-formed and flat sheet aluminum, before or after assembly.
Fowler continues, "The unique process that involves using real copper to anodize the aluminum makes for a warm and natural finish. Combining the durability and performance of the finish from Linetec with the functionality and endurance of Dri-Design panels is a façade that will last for many years."
Sustainable, recyclable and durable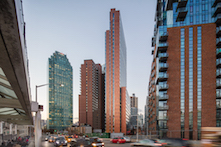 Supporting The Forge's healthy, sustainable goals and LEED criteria, Linetec's anodized services produce no harmful or dangerous by-products and is non-hazardous. Anodized aluminum is an inert, non-combustible material that is 100 percent recyclable and poses no health risks.
At the beginning of the new millennium, Linetec and other environmentally responsible finishers, changed from the traditional caustic etching process to a more eco-friendly etch system. Compared with conventional etch processes, this improved anodize process reduces landfill waste by 75-80 percent. Landfill waste directly relates to the production of greenhouse gas.
This change to eco-friendly anodize also made it easier for customers to use secondary (recycled) billet in the anodize process. The Forge's aluminum wall system is manufactured with recycled content and, at the end of its useful life as exterior cladding, is 100 percent recyclable.
Fowler highlights other environmental aspects of the system: "Dri-Design purchases its aluminum from domestic mills, which saves transportation energy costs. Additionally, Dri-Design's single-skin technology – which does not have a plastic core like our MCM [metal composite material] competitors – saves on fossil fuels. Lastly, Dri-Design uses no joint sealants or gaskets, which are made with petroleum, saving fossil fuels and future maintenance costs."
Further contributing to The Forge's long life cycle and minimal maintenance, anodize aluminum resists the ravages of time, temperature, corrosion, humidity and warping. Its copper anodize finish meet the American Architectural Manufacturers Association's AAMA 611 Class I Specification. Protecting and maintaining the structural integrity of the aluminum, it retains exceptional hardness and lasting durability.
Open communication and proven performance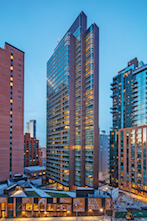 To arrive at the enduring look of The Forge's copper-anodized wall system, Dri-Design and FXCollaborative first began discussing the building's design in 2013 during the earliest stages of the project's conception.
"There was an abundance of collaboration between owner, architect, general contractor and Dri-Design to meet the design intent," Fowler remembers. "With open lines of communications such as this, it makes for a better experience for all parties involved."
He proudly notes that the two companies have a long-standing relationship and "the use of Dri-Design was a first choice based on many qualities." Among these qualities, Dri-Design's architectural metal wall cladding system is made form one single solid piece of aluminum; it is not a metal or aluminum composite material. Because it is not a composite material and is not laminated, the panels will not delaminate.
Engineered as a pressure-equalized rain-screen system, Dri-Design's wall panel system complies with the National Fire Protection Association's NFPA 285 standard. It also has passed the most stringent air, water and structural testing requirements in the industry, including AAMA 508 test protocol, as well as Miami Dade County's hurricane testing.
"With the performance requirements along with the desired overall aesthetic of the façade, Dri-Design made the most sense," summarizes Fowler.
Smooth, on schedule installation
Dri-Design's rain-screen wall system attaches to nearly any substrate without the use of clips or extrusions. This quick-connecting, interlocking panel design helped installing contractor KNS Building Restoration stay on schedule.
KNS worked closely with general contractor Purves Street Development following The Forge's start of construction in June 2015. In August 2016, the project "topped out." The building was substantially completed, on time, in the summer of 2017.
"This was the first time Dri-Design and KNS Building Restoration worked together," Fowler acknowledges. "It was a great experience for us. This was a group effort between both parties to make for a successful project."
Eco-friendly, artistic amenities at The Forge
As a recognized part of The Forge's success, residents enjoy 26,000 square feet dedicated to amenities and their own spacious outdoor park. A sunroom, lounge, children's playroom, fitness center, business bar, workspace and local art installations are available throughout the interior. The property's many outdoor areas include a pool, movie theater, sculpture garden, summer kitchen, and green roof with sky lounge and terrace.
The Forge also incorporates wind turbines and a solar power screen for supplemental power. An irrigation system captures rainwater and reuses it on the landscaped green spaces. Bike storage and on-site parking with electric charging stations also support a healthy, green lifestyle.
Within The Forge, residents and visitors are welcomed by a 24/7 concierge in an impressive, double-height lobby. The individual Feng Shui-certified residences continue the intended attitude of modern comfort and well being into the studio, one- and two-bedroom units. Delivering on these intentions, the building's design and construction focuses on sound sensitivity and energy efficiency, as well as environmental responsibility.
Prospective tenants seeking to embrace the eco-minded, healthy lifestyle offered by The Forge still have the opportunity to lease a residence. Units currently available are listed as starting at $3,244 for a one-bedroom, one-bath.
**
The Forge, 44-28 Purves Street, New York 11101; https://renttheforge.com
* Developer and owner: Brause Realty Inc. (formerly listed as Purves Street Owners); New York; http://www.brauserealty.com
* Developer: Gotham Organization; New York; https://www.gothamorg.com
* Architect and interior designer: FXCollaborative (formerly known as FXFOWLE); New York; http://www.fxcollaborative.com
* General contractor: Purves Street Development, LLC; New York
* Cladding system – installer: KNS Building Restoration; Middle Village, New York; http://www.knsbuildingrestoration.com
* Aluminum wall panel cladding system – manufacturer: Dri-Design Inc.; Holland, Michigan; http://www.dri-design.com
* Aluminum wall panel cladding system – finishing service provider: Linetec, Wausau, Wisconsin; http://www.linetec.com
* Photos by: Arch Photo, Inc., Eduard Hueber
Located in Wisconsin, Linetec serves customers across the country, finishing such products as aluminum windows, wall systems, doors, hardware and other architectural metal components, as well as automotive, marine and manufactured consumer goods. The company is a subsidiary of Apogee Enterprises, Inc. (NASDAQ: APOG).
Linetec is a member of the Aluminum Anodizers Council (AAC), the American Architectural Manufacturers Association (AAMA), the American Institute of Architects (AIA), the Association of Licensed Architects (ALA), the National Glass Association/Glass Association of North America (GANA), the U.S. Green Building Council (USGBC) and the Window and Door Manufacturers Association (WDMA).
###
---
Filed under: FGIA, Linetec, Projects
---
Story Resources
Word document
Request high res photographs for publication