Client News: RHEINZINK zinc façade cladding creates distinctive aesthetic with sustainable, enduring performance
Posted on February 15th, 2019 by Heather West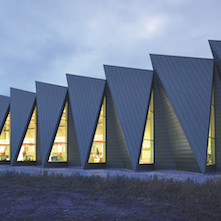 Helping create aesthetically distinctive, sustainable and durable building envelopes, RHEINZINK offers architectural grade zinc façade cladding and wall products in CLASSIC® bright rolled, prePATINA® blue-gray and graphite-gray, and artCOLOR® in an array of colors.
Complementing both contemporary and traditional architectural styles, RHEINZINK façade cladding develops a natural patina as it weathers and ages. RHEINZINK prePATINA products are specially processed to achieve the natural, pre-weathered patina during production.
Appealing to building owners, the zinc material maintains its self-healing, low-maintenance, corrosion-resistant performance with a potential lifespan of 100 years or more. At the end of its useful life on the building's exterior, it remains 100 percent recyclable.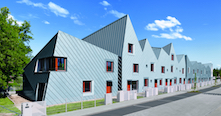 RHEINZINK America's distributors and system partners offer a wide variety of roll-formed and brake-formed engineered panels for wall cladding. RHEINZINK's façade cladding and exterior wall product options include:
* Flat-Lock Tile System tiles can be installed horizontally, vertically or diagonally with overlapping seams for a subtle, gridded look, as simple or complex designs, and on rectilinear or curvilinear surfaces.
* Pointed Tiles accommodate corners and curves with diamond and square shapes of various sizes. The tiles' hems form the simple lock joints.
* Angled Standing Seam System panels adapt to complicated geometries with variable lengths and widths, and can be oriented horizontally, vertically and diagonally to produce the desired linear look.
* Horizontal Panel System allows for a controlled range of emphasis on the reveal with face heights up to 10 inches and joint widths from zero to 1 inch. Panels and joints can be configured to create vertical joints or can be staggered with backer plates.
* Vertical Reveal Panels are similar to those offered for horizontal installations and feature face widths up to 16 inches. Vertical and horizontal panels can be combined to form innovative expressions.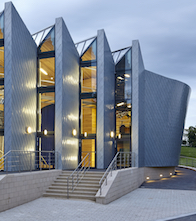 * Shiplap Panels, reminiscent of wooden façades, deliver a layered appearance presented in sharp contours of light and shadow.
* Corrugated Profiles are available as sinusoidal, "wavy" profiles or as trapezoidal, "box" profiles to clad large areas with ease using either exposed or concealed fasteners to install the corrugated panels in horizontal, vertical or diagonal arrangements.
* Perforated Panels provide the benefits of zinc, combined with advantages of daylighting and passive solar shading, plus low-maintenance punched openings that naturally patina.
"Used in Europe since the 1800s, zinc is a proven and dependable material for crafted metal products. RHEINZINK products add elegance to architectural applications and can last generations," said Lisa Colaianni, RHEINZINK's marketing manager.
RHEINZINK products meet the ASTM standard specification B69-16 Architectural Rolled Zinc Type 1 and Type 2. Currently, RHEINZINK is the only manufacturer with a Type 2 designation, which was received for its prePATINA graphite-grey alloy. RHEINZINK prePATINA products derive their color based on their alloy. For those seeking alternatives to zinc's natural aesthetic, RHEINZINK artCOLOR products are available in a choice of standard and custom colors of architectural coatings.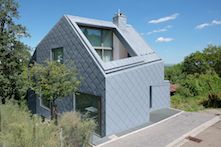 All of RHEINZINK's products rely on high-grade zinc with trace elements of titanium and copper. The material composition makes RHEINZINK façade cladding products easy for contractors to fabricate and install. In addition to façade cladding, RHEINZINK products are used for roofing, gutter systems, as well as ornamental and interior applications.
To learn more about RHEINZINK façade cladding and wall products, please visit https://www.rheinzink.us/systems/zinc-wall-facade-panels/.
RHEINZINK America, Inc. led the introduction of architectural zinc in North America and continues to offer one of the industry's most reliable, trusted brands. Architects and contractors are supported by unparalleled customer service and technical assistance. RHEINZINK is readily available through an established network of qualified distributors and systems partners across the United States, Canada and Mexico. Ideal for roofing, façade, gutter and interior applications, RHEINZINK is environmentally friendly, 100 percent recyclable and offers a potential lifespan of 100 years or more.
For more information on RHEINZINK, call 781-729-0812 or visit www.rheinzink.us.
###
---
Filed under: Products, RHEINZINK
---
Story Resources
Word document
Request high res photographs for publication