Client News: Knutson celebrates the grand opening of the Ramsey County Library in White Bear Lake
Posted on April 10th, 2015 by heatherwestpr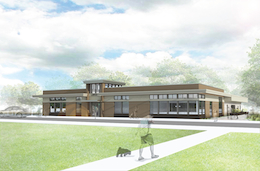 Together, with the White Bear Lake community, Knutson Construction celebrates the completion of the $3.3 million renovation to the Ramsey County Library in White Bear Lake, Minnesota. The design-build project began in September 2014 and was a collaborative with Bentz/Thompson/Rietow Architects.
Approximately 12,500 square feet of the existing library has been remodeled and 4,000 square feet has been added to create flexible space and maximize efficiency. The design integrates new and old portions of the facility into one cohesive community destination. The library features an interactive EyePlay projection gaming system located in the teen/children's room encouraging interaction with the new space.
The project successfully exceeded all diversity and small business enterprise utilization goals and kept approximately 200 construction workers employed throughout the project. Minnesota's Sustainable Building Guidelines were utilized to significantly reduce the facility's energy use, cost of operation and impact on the environment.
"We are proud to be a part of such an amazing project for the people of White Bear Lake. We know the enhanced facility will have a positive impact on the community and will allow the library to adapt to future changes in library services," stated Dave Bastyr, Knutson Construction's executive vice president of Minnesota.
In addition to Knutson Construction and Bentz/Thompson/Rietow Architects, the Ramsey County Library project team included: Ramsey County Property Management, the Ramsey County Library, the City of White Bear Lake, Mattson Macdonald Young Structural Engineers, Pierce Pini & Associates Civil Engineers, Gausman & Moore Mechanical and Electrical Engineers, and Calyx Design Group Landscape Architecture.
Knutson Construction provides customers with pre-construction, design/build, general contracting and construction management services. Knutson has been providing expert construction services to healthcare, corporate, manufacturing, education, industrial, civic and retail customers since 1911. In addition to Minneapolis, Knutson has offices in Rochester, Minnesota; Iowa City and Cedar Rapids, Iowa; and Altoona, Wisconsin. To learn more about Knutson Construction Services, visit its website at http://www.knutsonconstruction.com.
###
---
Filed under: Projects
---
Story Resources
Word document
Request high res photographs for publication