WHEDA offices showcase a modern industrial aesthetic with Rockfon ceiling systems creating an efficient, effective workplace that optimizes acoustics and natural light
Posted on January 13th, 2023 by Heather West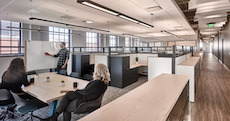 In June 2022, the Wisconsin Housing & Economic Development Authority (WHEDA) celebrated its move to a newly constructed five-story, 92,000-square-foot building in downtown Madison. Part of a planned revitalization, the building's full-brick façade with large windows showcases a contemporary industrial style, bridging between the neighborhood's historic buildings and the East Washington Corridor's new developments.
Designed by Potter Lawson, the refined industrial-inspired exterior continues inside WHEDA's offices. Expansive windows, glass and metal partitions, and exposed infrastructure are complemented with a neutral color palette, including Rockfon's white acoustic stone wool ceiling products.
To support the interior aesthetic and optimize acoustics for the open offices, Potter Lawson specified multiple Rockfon ceiling systems. Performance Contracting, Inc. installed all of Rockfon's ceiling systems for WHEDA's offices.
Efficient and effective workplace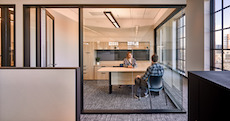 WHEDA provides affordable housing and business financing products by working with lenders, developers, local government, nonprofits and community groups. "WHEDA's goal [was] to create a new workplace that helps them to be as efficient as possible, effective for their clients/partners, and ultimately better achieve their mission to meet an increasing need for affordable housing financing as well as business and agricultural activity in the state," said Chip Weir, Group Manager of Cotter Consulting, who served as the owner's representative.
"WHEDA had been in another downtown location where they were one of several tenants," explained Potter Lawson's Jaime Denman, NCIDQ, IIDA, LEED® Green Assoc. "They had outgrown the space and were interested in more control over the shared public areas and training rooms. Their offices had spread across different floors as they grew resulting in disconnected teams."
In their new offices, she said, "They wanted to bring everything a little closer together, while offering their people more amenities like break rooms, a fitness center and introduce areas for collaboration including meeting and conference rooms."
Different looks in different spaces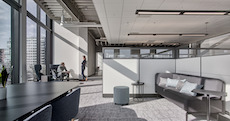 "We selected three different Rockfon products to create very different looks in different spaces," Denman continued. In total, WHEDA's offices currently house 150 workstations and 50 enclosed offices, modified by size and layout.
The enclosed offices, meeting rooms and conference rooms are positioned within the core of the building. These areas of concentration and collaboration feature Rockfon Alaska® 2-by-2-foot acoustic stone wool ceiling panels. The ceiling panels and light fixtures were installed in a Chicago Metallic® 200 Series Snap Grid™ 15/16-inch suspension system.
Over the open office workstations, Rockfon® Island™ acoustic stone wool ceiling clouds and decorative pendant lights are suspended. Each ceiling cloud is composed of panels in 4-by-4-, 4-by-6- and 4-by-8-foot sizes. Positioned in the middle of the open office areas, they were configured and installed to intentionally expose the plenum and reveal HVAC, electrical and other service utilities.
In the walkways around the core, Rockfon® Contour™ acoustic ceiling baffles and dappled lighting signify the travel path and distinguish it from the workspaces.
A good acoustic experience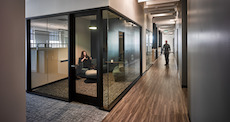 "Above the open offices and in the walking pathways, we were able to open up the ceilings to give an industrial look, while still achieving good acoustics," said Denman. "With the majority of people working in open offices, acoustics were very important to them. We drew from our knowledge in the field and experience with other projects to design the right solution that delivered an acoustic experience that maintains privacy while still experiencing activity in the space. One simple strategy we utilized…the walls go all the way to the deck."
According to Rockfon's experts in Optimized Acoustics, full-height walls to block sound transfer and ceiling panels to absorb sound, combined with appropriate background noise, are the three key steps to a good acoustic experience.
Where quiet and privacy were most important, Potter Lawson specified the ceilings have best-level sound absorption. For ceiling panels, this is demonstrated by a Noise Reduction Coefficient (NRC) of 0.90.
Designed well, ceiling systems in offices can have a positive effect on the bottom line. With more than 90 percent of an organization's operating costs linked to employee efficiency, a good acoustic experience can contribute to increased productivity, reduced absenteeism, higher job satisfaction and retention, and overall well-being.
Daylighting and healthy interiors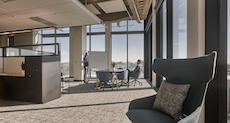 Enhancing the industrial architectural style, the bright white Rockfon ceilings contrast with the black metal window framing and furnishings to create bold lines throughout the interior.
"The white ceilings also help reflect daylight into the enclosed core," explained Denman. "Maximizing daylight is one Potter Lawson's design principles for healthy workspace design. We want the daylight to penetrate as deep as possible into the interior using transparent walls and reflective surfaces."
Rockfon Alaska ceiling panels reflect up to 86 of light from its surface, maximizing both daylight and electric light. This generates a diffused light, reducing glare on screens and monitors, and in turn, lessening eye strain and associated tension.
Products that support healthy indoor air quality offer another opportunity to support WHEDA employees' well-being. All of Rockfon's stone wool products are UL® Environment GREENGUARD® Gold Certified for low-emissions in offices. Without added chemicals, stone wool also is inherently resistant to fire, water and humidity, and does not provide sustenance for microorganisms, mildew or mold.
Along with good acoustics and daylighting, Potter Lawson prioritizes U.S.-made materials and sustainable products whenever possible. Supporting design professionals in making informed choices, Rockfon's comprehensive material and product transparency documentation includes Environmental Product Declarations (EPDs), Health Product Declarations (HPDs), and the International Living Future Institute's Declare Label 2.0 – Living Building ChallengeSM Red List Approved.
Back to the office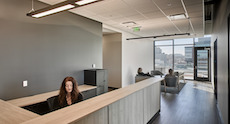 WHEDA's new building was completed in January 2022. With many employees working from home during the pandemic, the team waited until June to celebrate their new office.
WHEDA currently occupies the third, fourth and fifth floors plus part of the first floor, where it has a large training room and fitness center. The second floor remains as a white box until it too is built-out. A skywalk on the third-floor connects the offices to a five-story parking ramp and a rooftop patio adds outdoor space for WHEDA and future tenants.
"The reviews from staff have been glowing," said Denman. "I know they've been happy with the acoustics, which was one of the main concerns they had, and they are elated with the space overall."
**
Wisconsin Housing Economic Development Authority (WHEDA) offices, 908 E. Main Street, Madison WI 53703; https://www.wheda.com
• Owner's representative: Cotter Consulting, Inc.; Chicago; https://www.cotterconsulting.com
• Architect and interior designer: Potter Lawson, Inc.; Madison, Wisconsin; http://www.potterlawson.com
• General contractor: Ideal Builders Inc.; Madison, Wisconsin; https://idealbuilders.com
• Ceiling systems – installing contractor: Performance Contracting, Inc. (PCI); Sun Prairie, Wisconsin; https://www.performancecontracting.com
• Ceiling systems – manufacturer: Rockfon; Chicago; https://www.rockfon.com
• Photos by: Mike Rebholz

About Rockfon
Rockfon is part of the ROCKWOOL Group and is offering advanced acoustic ceilings and wall solutions to create beautiful, comfortable spaces.
At the ROCKWOOL Group, we are committed to enriching the lives of everyone who experiences our product solutions. Our expertise is perfectly suited to tackle many of today's biggest sustainability and development challenges, from energy consumption and noise pollution to fire resilience, water scarcity and flooding. Our range of products reflects the diversity of the world's needs, while supporting our stakeholders in reducing their own carbon footprint.
Stone wool is a versatile material and forms the basis of all our businesses. With approximately 11,500 passionate colleagues in 39 countries, we are the world leader in stone wool solutions, from building insulation to acoustic ceilings, external cladding systems to horticultural solutions, engineered fibers for industrial use to insulation for the process industry, and marine and offshore.
###
---
Filed under: Projects, Rockfon
---
Story Resources
Word document
Request high res photographs for publication