Client News: Pathways Innovation Center and Roosevelt High School features custom sunscreen and translucent façade by EXTECH providing high thermal performance, aesthetic accents and light diffusion
Posted on August 15th, 2017 by Heather West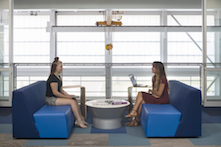 The first students of the Natrona County School District's new school buildings finished their 2016-17 academic year in June. Teachers and staff already are preparing to welcome more than 700 students when they return from summer break.
Set within a 38-acre educational campus in Casper, Wyoming, Roosevelt High School and the new Pathways Innovation Center (PIC) share 126,000 square feet of learning space. Designed by Cuningham Group, with local partner MOA Architecture, the facilities emphasize daylighting, openness, transparency and collaboration.
Exemplifying these objectives with a translucent façade, Exterior Technologies, Inc. (EXTECH) supplied Overhead Door Company of Casper, Inc., with more than 3,000 square feet of its LIGHTWALL 3440® interlocking polycarbonate translucent wall system. Along with its standard wall system, EXTECH created a dual wall system to provide high thermal performance, plus customized vertical sunscreens for aesthetic accents and light diffusion.
As this was the first time using EXTECH's systems, Overhead Door's Randy Thoroughman notes, "It was pretty easy to install and went in as expected. The project went well and as planned." Working closely with the architects, installation of EXTECH's systems and the project's overall construction was completed on schedule. Completed on budget, the PIC and Roosevelt High School building project is estimated at a total cost of $45 million.
Beyond the need for new and updated school buildings, the School District's overall goal was to provide an environment that allows for the advanced technology necessary to "prepare children for success in a world we cannot yet imagine," says Scott Krenner, the project's design lead and senior associate at Cuningham Group. "Rather than follow a traditional vocational approach, this high school presents new pathways to success; a way to shine that may not be found in standardized tests. Here, their inventive thinking and new skills are much more visible."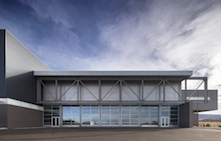 Pathways Innovation Center
Up to 500 students arrive each day at PIC from three area schools, including the adjacent Roosevelt High School. "Early on, the school district realized it wanted to increase engagement with the kids in a different way, not just add more classrooms," explains Krenner.
He continues, "Many of PIC's students are looking at a future beyond high school that won't necessarily include a four-year degree. They were not getting what they needed from their education with typical lecture formats. This is a place where they can learn by doing and by creating. The district worked with local industry leaders to ensure PIC teaches the skills and tools that the trades are using right now."
Defining PIC's interactive style also influenced its structure. Krenner adds, "It's not a typical brick building. It has a different look and format, too. There wasn't a model for us to follow, so we looked outside the educational system to find our 'ah-ha' moment." The architects discovered their inspiration in private sector facilities, such as Boeing in Washington State, where engineering and design teams work under one roof.
Similarly, "Fabrication Hall" is positioned at the core of PIC's 83,835-square-foot building where a traditional school design may place the lunchroom or commons area. All of PIC's academies share the Hall and are intended to foster inspired thinking and hands-on learning. They include: The Academy of Architecture, Construction, Manufacturing and Engineering (ACME); The Academy of Business, Agriculture and Natural Resources (BANR); The Academy of Creative Arts, Communication and Design (CACD); and The Academy of Health Sciences and Human Services (HSHS).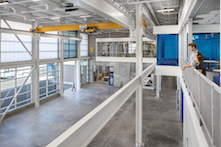 Fabrication Hall
Fabrication Hall offers a 5,000-square-foot, two-story common space surrounded by cutting-edge laboratories and state-of-the-art equipment. The 30-foot-high exterior wall facing north incorporates EXTECH's systems, selected for their contribution to daylighting and energy-efficiency. "It gets cold in the winter," reminds Krenner. "We wanted a material that performed better than glass. With EXTECH's systems, we saw three times the best thermal performance that insulating glass could provide." EXTECH's LIGHTWALL 3440 dual wall system is composed of polycarbonate panels that provide insulating values up to R8.2.
On the west elevation, the wall cantilevers, which Krenner compares to "reaching out to the community." In contrast to schools that historically delegated industrial and engineering classes to windowless lower levels, he emphasizes, "how important transparency is within, as well as without in connecting with each other and connecting with the community. This is not some dark basement. The students enjoy great views and access to light."
Anticipating the students' experience within the hall, the building team had the forethought to consider the sun's path throughout the day. Low sun angles in the afternoon would generate unwanted glare on work surfaces and computer screens. "To manage glare without sacrificing views or transparency, we custom-fabricated vertical sunscreens with 1.5-inch-thick cellular polycarbonate," says EXTECH Director of Product Application and Development Kevin Smith, R.A.
Smith continues, "We worked with the architects throughout the design process to meet the exact specifications. Not only did the resulting shading devices perform as intended and withstand the Wyoming winds, they added a signature design detail to PIC's exterior aesthetic."
Daylight extends deeply through the interior of Fabrication Hall. Both the sunscreens and the dual wall system help diffuse natural light and reduce solar heat gain into the building envelope. This lessens dependence on electric lighting and the associated utility costs. Krenner observes, "We get lots of daylight. Other than early morning or in the evening, we don't even need the electric light."
With respect to PIC's energy efficiency, thermal performance, daylighting and views, Krenner hardly needs to mention that "sustainability is very important. Although the project didn't go for LEED, every aspect of the design was considered with intention, and sustainable principles and materials integrated throughout. The thermal envelope is above code. There are no VOCs to off-gas. There is no concern for 'sick building syndrome.' Green design is an everyday part of work for us."
Krenner reiterates, "This is a unique space that you don't see at other schools. It is sun-filled and large enough to build homes and solar-powered airplanes. It is the heart of the school. Everything else revolves around it and supports it. Here, their work is visible and so is their potential."
Roosevelt High School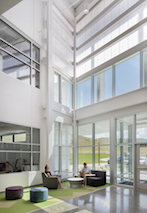 Although Roosevelt High School is called "alternative," it features a more traditional learning space than PIC. It serves a significantly smaller student body than PIC, approximately 220 students; and logically, also is the smaller of the two facilities at 42,240 square feet. Prior to its renovation and expansion, the previous building was constructed in 1900 as an elementary school. Nearly 120 years later, the structure continues to be reimagined to benefit future generations.
The updated school's main entry welcomes all with a two-story sunlit atrium featuring EXTECH's LIGHTWALL 3440 wall systems. "At the top of the entry, the polycarbonate panels have a 75-degree angle that we made sure was precisely cut, glazed and anchored in place," says Thoroughman. "The remaining installation on Roosevelt was fairly straightforward using EXTECH's standard system for the punched openings."
Strengthening the community within these window-lined walls, Roosevelt's students and staff gather as a whole school every day. Krenner elaborates, "They eat breakfast together as staff and students. Throughout the day, they take five-minute breaks where they do five exercises for one minute each to reenergize. They champion the idea of a healthy body and a healthy mind. Mentorship also is a central part of their program."
High school students, who are also parents and want to have their children on campus, may take advantage of the childcare program that is shared between the Roosevelt and PIC campus. With the peace of mind that their children are in a safe place, these students can continue earning their high school credits while learning important parenting and life skills.
Better Together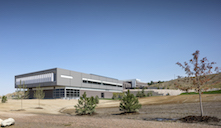 Natrona County School District Superintendent Steve Hopkins is excited about the opportunities both PIC and Roosevelt are providing county students through engaging programs that will not only help boost graduation rates, but also prepare them for their future. He says, "We certainly want every student to receive a diploma, but we also want every student to receive the greatest possible education they can."
**
Pathways Innovation Center and Roosevelt High School, 3000 Independence Court, Casper, 82604, https://sites.google.com/myncsd.org/pathways/home
• Owner: Natrona County School District; Casper, Wyoming; http://natronaschools.org
• Architect: Cuningham Group Architecture, Inc.; Minneapolis; http://www.cuningham.com
• MOA Architecture; Casper, Wyoming; http://moaarch.com
• General contractor: Groathouse Construction, Inc.; Casper, Wyoming; http://www.groathouse.com
• Installing contractor: Overhead Door Company of Casper, Inc.; Casper, Wyoming; http://www.ohdcasper.com
• Manufacturer – wall panel system, LIGHTWALL 3440® polycarbonate wall systems and solar screens: Exterior Technologies, Inc. (EXTECH); Pittsburgh; https://extechinc.com
• Images by: Astula Inc.
• Video of construction time-lapse: https://app.oxblue.com/open/Groathouse/CAPSRooseveltHS
**
Exterior Technologies, Inc. (EXTECH) is an award-winning manufacturer and designer of wall, window, skylight, canopy and custom façade systems. The company delivers solutions for a variety of industries and applications, and are committed to collaboration, innovation and exceptional engineering. Learn more by calling 800-500-8083, emailing info@extechinc.com or visiting www.EXTECHinc.com.
###
---
Filed under: Projects
---
Story Resources
Word document
Request high res photographs for publication