Client News: Kolbe windows and doors feature the latest technology in product automation
Posted on June 5th, 2015 by heatherwestpr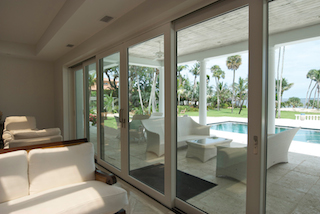 Kolbe showcases the technology and convenience of automation systems for its multi-slide pocket doors, lift and slide doors, swing doors, awnings and casements. Examples were displayed at the 2015 AIA Expo showing a VistaLuxe® Collection three-panel-wide, multi-slide pocketing door with an automation system; an Ultra Series custom, Hickory plank, inswing entrance door with electronically activated, multi-point locking system; and a motorized awning installed within a VistaLuxe Collection corner unit.
Kolbe's sliding door automation systems utilize an interactive wall switch, providing easy-to-use, push-button controls, as well as a feedback feature for serviceability. Optional items include a high-resolution touch screen kit, a wireless wall switch, a wireless remote and an overhead motion sensor kit. "The system allows the homeowner to open and close these expansive doors with the push of a button," says Kolbe's product and market manager, Lance Premeau, LEED® Green Associate.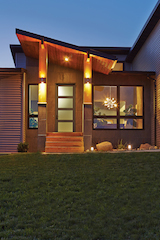 These systems are available for field-installation on Ultra Series and VistaLuxe complementary multi-slide doors, as well as Ultra Series TerraSpan® Lift & Slide doors. The system may be specified for use with either pocketing or stacking, and bi-parting door configurations, and also for 90-degree corner units.
Factory-installed, electronically activated, multi-point locking systems for swing doors also are available on Ultra Series, Heritage Series and VistaLuxe Collection. Clean, finished aesthetics are maintained as there are no visible wires and cable-free contact avoids pinched and broken wires. Providing design flexibility and system customization, the control module can interface with several systems including keypad, biometric and switching devices. A toggle switch allows the owner to disable automatic locking and activate uninterrupted passage.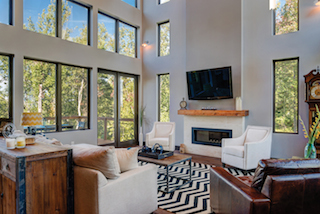 For awning and casement windows, Kolbe offers motorized options in Ultra, Heritage, Classic, Latitude® and Windquest® Series, as well as VistaLuxe Collection units. These can be easily wired, use standard 110-volt electricity and can be operated with a wall switch. This convenient operation is especially appreciated when the windows are situated near the top of a tall ceiling or other areas that make manual operation less accessible, while providing ventilation.
###
---
Filed under: Kolbe Windows & Doors, Products
---
Story Resources
Word document
Request high res photographs for publication