FGIA Releases Updated Standard for Reinforced Thermoplastic Profile Extrusions Requirements
Posted on April 24th, 2023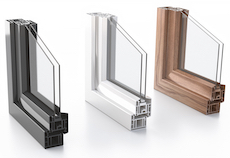 Schaumburg, Illinois – The Fenestration and Glazing Industry Alliance (FGIA) has updated a document establishing requirements for the material properties, including dimensional stability, weatherability and extrusion quality of rigid reinforced thermoplastic exterior profile extrusions used for assembled fenestration products. AAMA 310-23, Voluntary Specification for Reinforced Thermoplastic Fenestration Exterior Profile Extrusions, an FGIA document, is now available for purchase in the FGIA online store. This document was last updated in 2004.
"Reinforced thermoplastic profile extrusions are used in assembling fenestration products," said Glenn Ferris, FGIA Fenestration Standards Specialist and staff liaison for the document's developing group, the FGIA Reinforced Thermoplastic Fenestration Exterior Profile Extrusions Review Task Group. "Establishing this specification as a standard of quality is important for their utilization in fenestration applications."
The purpose of the information within this document is to assist producers and distributors and to educate consumers and vendors. It is also meant to provide requirements as the basis for specification requirements and product certification which applies to exterior fenestration products using extrusions made from reinforced thermoplastic. Improper use of these products can lead to failures in application, function and performance. This standard presumes a working knowledge of polymeric materials, extrusion process, physical testing and fenestration products.
AAMA 310-23, as well as other documents available from FGIA, may be purchased from the online store at the discounted member rate of $20 or the non-member price of $60. The North American Fenestration Standard (NAFS), which references AAMA 310, is also available for purchase.
For more information about FGIA and its activities, visit FGIAonline.org.
Your trusted industry resource, setting the standards for fenestration and glazing.
###
---
---
Story Resources
Word document
Request high res photographs for publication