Client News: Linetec's durable finishes support retail and restaurant design trends
Posted on July 26th, 2021 by Heather West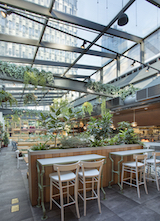 As summer weather shines, people are eagerly returning to dine at their favorite restaurants and to shop at their local retailers. Many storefront owners have invested in renovating their spaces to better serve their patrons in a post-pandemic world.
An emphasis on interior cleanliness, outdoor connections and overall flexibility influences today's restaurant and retail designs, including their finishing choices. As a single source solution for architectural finishing, Linetec supports customers responding to these immediate trends and long-term benefits.
Clean and Green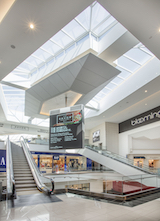 When considering new designs or upgrading existing spaces, cleanliness and the overall health of guests remains top of mind for retailers and restaurateurs. Architectural aluminum products with durable finishes can withstand frequent washing without requiring harsh chemicals.
Anodize provides the hardest and heartiest finish available. For high-performance finishes in a wider range of colors, painted coatings also provide an excellent option. Extra attention should be given to high-touch surfaces like doors, windows and storefront framing, and high-traffic surfaces like wall cladding and column covers.
Maintaining a clean appearance also is important to generating return customer visits. Antimicrobial protection can be infused into painted coatings to inhibit the growth of mold and other unsightly microorganisms.
Some restaurants and retailers are demonstrating their commitment to healthy, energy-efficient buildings with LEED certification or other sustainable, performance-based criteria. Choosing finishes with no or low volatile organic compounds (VOCs) are recognized as key to good indoor air quality.
"We are proud to be an award-winning leader in environmentally responsible finishing," said Linetec's marketing manager, Tammy Schroeder, LEED Green Associate. "We capture the VOCs associated with liquid paint solvents in our factory and use them as a safe regenerative energy source. This alleviates adverse health and ecological concerns, and eliminates 'off-gassing' at the job site. Among your choice of no-VOC options, our full range of anodize finishes have earned a Declare Label at the highest level – Living Building Challenge Red List Free."
Let's Go Alfresco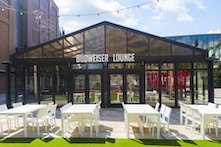 In climates with long winters, when the temperature tips above 50ºF, people are ready for patio season. With pandemic precautions, many restaurants expanded their outdoor dining areas to accommodate guests who prefer eating alfresco regardless of the season. It is expected that these open air spaces are here to stay for many cafés, brewhouses and fast-casual restaurants.
Pergolas, decks, fencing, canopies, skylights and sun shades enhance the setting. They can create an exterior atmosphere that feels secure and private, or open and communal. Made with aluminum, these decorative and functional building products can be low-maintenance and long-lasting with the correct finish. Linetec offers both durable 70% PVDF resin-based paints and Class I anodize options for a finish that withstands the sun, rain, snow and fluctuating weather conditions.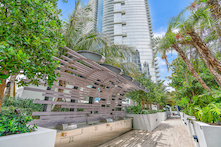 Whether dining outside or in, guests can enjoy a sense of the outdoors with wood grain finishes applied to architectural aluminum products. Schroeder elaborated, "Unlike real wood, the painted metal will not rot, warp, splinter, mold or combust. There's no need to worry about termites and other wood-eating insects. It doesn't need to be stained, varnished or repainted season after season, and it doesn't need to be put away in rain or snow."
Used indoors, wood grain finishes preserve a connection to the world outside. Daylight, views and natural ventilation further support this biophilic link. With an emphasis on improved airflow, expansive operable windows and doors merge the indoor-outdoor experience.
Optimal Options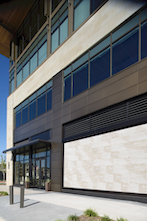 For most, online purchases during the last year significantly increased, along with consumer expectations for flexibility. Now, "click to order" often is followed by a choice of options beyond door-to-door delivery, such as pre-order and pick-up, drive-through, or simply grab-and-go.
With each new option, additional navigational cues and structures are needed to help people find their way and guide them to their purchases. Canopies, pass-through windows, entrance systems, partitions, handrails, displays, signage and more keep on the right path without too much discomfort. All of these building products can be fashioned from metal and finished to hold up to continual daily use.
"Color choices can call attention to critical messages and boundaries, or can calm with familiar, brand-matched palettes," explained Schroeder. "If the interior and exterior have distinctive design goals or different performance requirements, we offer dual finish options for storefronts framing, windows and entrances."
She concluded, "Whether you want your finished material to stand out or blend in, we can help you meet the needs of your restaurant and retail projects."
For more information on Linetec's architectural paint, anodize and specialty finishes and value-added services, please visit https://linetec.com.
About Linetec
Located in Wisconsin, Linetec serves as a single source solution for architectural finishing. The company works with customers across the country, finishing such products as aluminum windows, wall systems, doors, hardware and other architectural metal components, as well as automotive, marine and manufactured consumer goods.
Linetec is a member of the Aluminum Anodizers Council (AAC), the American Institute of Architects (AIA), the Fenestration & Glazing Industry Alliance (FGIA), the National Glass Association (NGA) and the U.S. Green Building Council (USGBC). The company is a subsidiary of Apogee Enterprises, Inc. (NASDAQ:APOG).
###
---
Filed under: Linetec, Tubelite
---
Story Resources
Word document
Request high res photographs for publication