Client News: EXTECH provides Delaware Tech with translucent courtyard canopy that balances sculptural design, light and shade
Posted on August 28th, 2017 by Heather West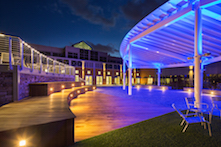 Delaware Technical Community College's Stanton Campus Courtyard renovation provides a comfortable space connected to the surrounding buildings, to the outdoors, and to the community. Guiding the project's direction, a survey of students, faculty and staff identified the need for additional seating, brighter colors and more shade in the 13,000-square-foot courtyard.
In response to Delaware Tech's clear goals, Exterior Technologies, Inc. (EXTECH) worked with project architect Tevebaugh Associates to create a sweeping, translucent canopy using its SKYSHADE 3300® system. Tevebaugh principal, Shawn Crowley, AIA notes, "A design challenge was to provide a canopy that provided maximum shade to the courtyard, while not overpowering the space, which is enclosed on all four sides."
Not only does the canopy provide shade and shelter, but it also serves as a sculptural design element that incorporates colorful lighting, while maintaining the open, inviting and airy atmosphere. "Tevebaugh Associates wanted a sleek, free-standing marquise-shaped canopy with integrated up-lighting," explains EXTECH General Manager Jim Leslie.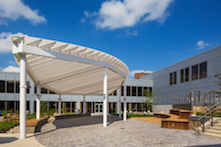 "The canopy covers 1,718 square feet and consists of continuous curves on each edge that come to a point," describes Crowley. "EXTECH was able to implement a monolithic polycarbonate panel in lieu of a cellular system that provided a consistent surface color and minimized the profile of the canopy's roof structure. This thin profile was a critical component to allow the overall structure to feel light and sleek, while still providing a great deal of shade and comfort for students."
Leslie continues, "The size of the canopy—80 feet long by 32 feet wide—posed a significant challenge to accomplishing the architect's vision. Typically, glazing panels are subdivided by cross-mullions, but these would interfere with the canopy's aesthetic."
Crowley elaborates, "A critical component of the canopy's design was to ensure the finished product maintained a sleek appearance by not having any intermediate framing members. This meant that the monolithic polycarbonate sheets had to be installed in lengths exceeding 30 feet. EXTECH joined the design team in the vision and was able to deliver an end product that implemented the initial concept."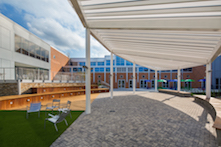 "EXTECH was very responsive throughout the entire design process," praises Crowley. "EXTECH's team was proactive in providing practical assistance during the early design phases of the project to ensure the overall project's success."
To achieve the look and function desired by the architect and Delaware Tech, EXTECH engineered the canopy system with lightweight, surface-mounted, single-glazed, full-length, monolithic polycarbonate panels and aluminum framing. The design configuration eliminated the cross mullions, hid a majority of the framing members and created a long, sleek appearance. Leslie adds, "To the best of my knowledge, this is a first in polycarbonate canopy design. Never before has monolithic polycarbonate been installed in such long sheets."
Because the canopy's elliptical shape is made of two large sweeping curves, each glazing panel had to be precisely cut and uniquely angled to ensure proper installation and performance. The long spans and precise engineering further enhance long-term performance by minimizing leaks. In addition, EXTECH developed a custom gutter assembly for the SKYSHADE 3300 with a rounded "waterfall" edge to shield pedestrians from canopy run-off.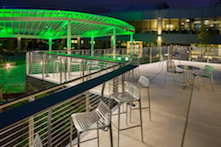 The monolithic polycarbonate material also helps block UV light, resists impact and reduces maintenance. Unlike fiberglass reinforced panels, polycarbonate is not affected by fiber bloom or yellowing and upholds the intended look and durable performance throughout its lifespan.
Because EXTECH's fully fabricated canopy system for Delaware Tech is comprised of polycarbonate and aluminum, these lightweight construction materials typically are easier and more cost efficient to install than heavier glass and steel. For Delaware Tech, this was a key consideration as the courtyard is surrounded on four sides by the building. Careful planning and teamwork was required to transport and maneuver 32-foot panels on site.
Construction on the new courtyard began early in 2016. Delaware Tech President Dr. Mark T. Brainard's Inaugural Week Closing Reception in June 2016 served as the courtyard's grand reopening. Guests mingled in the courtyard and, as dusk turned to dark, the canopy's lighting became more and more dramatic, adding an element of enchantment to the evening's festivities.
For more than a year, students, staff and visitors have continued to enjoy the courtyard's outdoor classroom, performance area and rain garden with footbridge, wood benches and dining terrace in a peaceful setting shaded by the canopy.
**
Delaware Technical Community College, Stanton Campus Courtyard, 400 Stanton-Christiana Road, Newark, DE 19713; https://www.dtcc.edu
* Owner: Delaware Technical Community College; Newark, Delaware; https://www.dtcc.edu
* Architects:
- Sikora Wells Appel; Haddonfield, New Jersey; http://www.sikora-wa.com
- Tevebaugh Associates, Inc.; Wilmington, Delaware; http://www.tevebaugh.com
* General contractor: The Whiting-Turner Contracting Company; Newark, Delaware; http://www.whiting-turner.com
* Manufacturer and installer – canopy system, SKYSHADE 3300® polycarbonate canopy: Exterior Technologies, Inc. (EXTECH); Pittsburgh; https://www.EXTECHinc.com
* Images courtesy of Charles Uniatowski Photography and EXTECH, Inc.
**
Exterior Technologies, Inc. (EXTECH) is an award-winning manufacturer and designer of wall, window, skylight, canopy and custom façade systems. The company delivers solutions for a variety of industries and applications, and are committed to collaboration, innovation and exceptional engineering. Learn more by calling 800-500-8083, emailing info@extechinc.com or visiting www.extechinc.com.
###
---
Filed under: Projects
---
Story Resources
Word document
Request high res photographs for publication