Client News: ROCKFON Planostile metal ceiling panels now offered with flush reveal profile
Posted on April 11th, 2016 by Heather West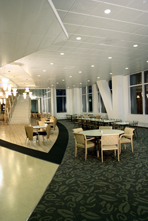 ROCKFON® Planostile™ lay-in metal ceiling systems now include aluminum panels with a flush reveal profile. These durable metal panels support design flexibility, easy integration and installation, acoustic and long-term performance, sustainability and economic goals for commercial ceiling projects.

The aesthetic versatility of ROCKFON Planostile ceiling panels includes painted, metallic and wood-look finishes. Choose either smooth, solid surface or specify perforation patterns for visual variety and increased acoustical performance. Combining perforation with an acoustical pad allows Planostile metal ceiling panels to achieve a Noise Reduction Coefficient (NRC) of 0.90.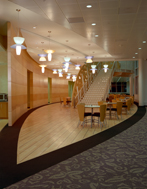 "Used with 15/16-inch suspension systems, ROCKFON Planostile flush reveal ceiling panels create an attractively structured appearance with recessed grid lines," said Patrick Wallis, ROCKFON's product manager for specialty metal ceilings. "This cost-effective solution provides easy access to the installations hidden behind the ceiling and integrates easily with industry-standard air diffusers, HVAC and lighting."
 
Simplifying installation, ROCKFON Planostile metal ceiling panels are available in 2-by-2 foot or 2-by-4 foot modular sizes. In addition to the new flush reveal profile, square- and reveal-edge options are offered for use with other standard suspension systems.

The metal composition of Planostile flush reveal ceiling panels contains no organic compounds to support mold or microbial growth. The aluminum panels are manufactured with 100 percent recycled content and locally recyclable at the end of their useful life as part of the ceiling system.


###
---
Filed under: Products, Rockfon
---
Story Resources
Word document
Request high res photographs for publication