Client News: Linetec's durable Copper Anodize enhances appearance, performance, sustainability of architectural aluminum products
Posted on January 20th, 2022 by Heather West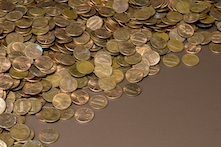 Wausau, Wisconsin (Jan. 2022) – Linetec's Copper Anodize enhances the appearance and performance of architectural aluminum products, while supporting their sustainability and durability. The finish's rich metallic tone resembles that of a copper penny and will keep its original shine for years to come.
All of Linetec's anodize finishes, including Copper Anodize, have earned a Declare Label as Living Building Challenge™ (LBC) Red List Free. This means that Linetec's anodize finishing is in full compliance with the highest level of LBC criteria established through the International Living Future Institute (ILFI).
Declare LBC Red List Free products are recognized by the U.S. Green Building Council's LEED® Rating System, the International WELL Building Standard™, and the U.S. Environmental Protection Agency's Recommendations of Specifications, Standards and Ecolabels for Federal Purchasers. The Declare Label for Linetec's anodize lists a life expectancy of 40 years and indicates that there are no applicable VOCs associated with this product.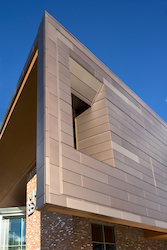 Unlike real copper, Linetec's Copper Anodize finish will not stain adjacent building materials with salt run-off or patina with time. Compared with actual copper, anodized aluminum is one-third of the weight, a fraction of the cost and more durable.
"New construction projects will look as fresh as the day they are installed without turning the dated green color of pure copper seen on historic properties," said Linetec's marketing manager Tammy Schroeder, LEED Green Associate.
She added, "For buildings seeking to regain their former luster, anodized aluminum in a bright elemental Copper Anodize can replicate the original intended appearance, while reaping the benefits of modern materials."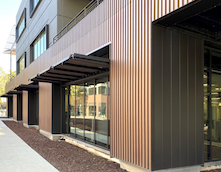 Anodizing protects and enhances the aluminum in both exterior and interior applications, such as:
• Window, skylight, curtainwall, storefront and entrance framing systems
• Doors, column covers, wall panels
• Façade and rainscreen systems
• Canopies, sun shades and other shading devices
• Coping, fascia and louvers
• Ornamental and decorative elements, trim and railings
Linetec's proprietary Copper Anodize finishes are achieved through an eco-friendly, three-step electrolytic coloring process. The anodize finish meets AAMA 611 Class I industry specification standards, providing excellent resistance to abrasion, weather, UV exposure and salt spray, and exceptional wear in high-traffic environments. Introduced in 2005, Linetec's Copper Anodize has been on a test fence in south Florida for nearly 20 years with no significant change to color or gloss.
Because it is an integral part of the substrate, anodization produces an oxide film that is uniform, hard and protects the rest of the aluminum from deterioration. After installation, their longevity contributes to lowering the need for repairs or replacement. These durable finishes also require minimal maintenance, reducing the associated labor and saving costs.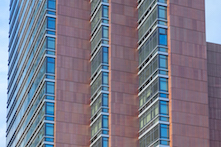 Further supporting wellness, sustainability and circularity, anodized aluminum can be made from recycled material and can be recycled at the end of its useful life on the building. Because there is no degradation to the aluminum's inherent properties and strength, these metal materials can be "upcycled" as future building components or other products.
Learn more about Linetec's Copper Anodize and other finishing services, please call 888-717-1472, email sales@linetec.com or visit https://linetec.com.
About Linetec
Located in Wisconsin, Linetec serves as a single source solution for architectural finishing. The company works with customers across the country, finishing such products as aluminum windows, wall systems, doors, hardware and other architectural metal components, as well as automotive, marine and manufactured consumer goods.
Linetec is a member of the Aluminum Anodizers Council (AAC), the American Institute of Architects (AIA), the Fenestration & Glazing Industry Alliance (FGIA), the National Glass Association (NGA) and the U.S. Green Building Council (USGBC). The company is a subsidiary of Apogee Enterprises, Inc. (NASDAQ:APOG).
###
Images: Linetec; Dri-Design; Sheet Metal Supply, Ltd.; and ©Archphoto - Eduard Hueber
---
Filed under: Linetec, Products
---
Story Resources
Image: Linetec's Copper Anodize
Word document
Request high res photographs for publication