De Zavala Elementary School's transformative renovation improves aesthetics and acoustics with Rockfon ceiling systems
Posted on January 11th, 2023 by Heather West
As part of a bond to improve and expand the San Marcos Consolidated Independent School District (SMCISD) facilities, De Zavala Elementary School completed a transformative renovation. The original elementary school, built in 1985, nearly doubled in size to the current 168,479-square-foot, two-story facility. Adding 80,000 square feet, the project features a new entryway and administration area, a renovated media center, and updates to the hallways, kitchen, cafeteria and all the classrooms.
Today, De Zavala Elementary School serves approximately 600 students in kindergarten through fifth grade. More than 85 percent of students identify as Hispanic and 20 percent are bilingual. Bilingual teachers and students speaking the same language is beneficial, but ensuring everyone is heard and understood still can be challenging.
Meeting the school's high acoustic performance requirements and updated contemporary appearance, Perkins&Will specified Rockfon Sonar® acoustic stone wool ceiling panels as the basis of design throughout De Zavala Elementary School's new addition and renovated spaces. Rockfon Sonar ceiling panels provide best-level sound absorption with a noise reduction coefficient of 0.95 NRC.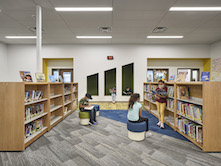 "Good acoustics throughout a school can have a life-changing impact. Designing with the right ceiling makes a big difference for people of all abilities. In a typical classroom, where English is the first language, research shows that students may only hear about 75 percent of the words being spoken. That means every fourth word is missed or misunderstood," explained Rockfon's district sales manager, Chris King.
"In classrooms with sound-absorbing ceilings, such as De Zavala Elementary's use of Rockfon Sonar, students are able to hear their teachers more clearly and the teachers can hear their students. A better acoustic experience makes it easier to concentrate, learn and understand, which contributes to academic performance," King continued.
He added, "School districts also know how important it is to recruit and retain good teachers. When teachers can focus on the lessons rather than on distracted students, they are less stressed out and don't have to shout. Optimizing acoustics with sound-absorbing ceilings helps create a more productive, happier and healthier learning environment for everyone."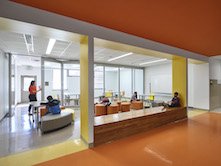 Working closely with Rockfon, two local companies were responsible for De Zavala Elementary School's new ceilings. ISC Building Materials supplied Southwest Texas Contractors with more than 40,100 square feet of Rockfon Sonar panels in three sizes, and Chicago Metallic® 1200 Series and 4000 Tempra™ exposed grid suspension systems.
For the majority of the school's ceilings, 2-by-2 and 2-by-4-foot square-edge, lay-in panels were installed in the 15/16-inch Chicago Metallic 1200 Series system. In the renovated media center, the larger 2-by-6-foot panels were selected with a square tegular narrow edge detail and installed in 9/16-inch exposed grid. The ceiling's modern appearance visually unifies the renovated existing space and the newly constructed addition, providing visual continuity throughout the school.
Along with improved aesthetics and acoustic performance, De Zavala Elementary School's renovation also supports the district-wide energy management plan's objectives to:
1. Improve energy efficiency in all SMCISD facilities;
2. Provide a safe, comfortable and healthy environment in all SMCISD facilities while minimizing operating costs; and
3. Raise the level of energy conservation awareness among students, staff and the community.
SMCISD's plan successfully conserves energy use and significantly reduces associated utility costs. Achieving these objectives, facility guidelines include maximizing natural light during normal school hours. Rockfon Sonar ceiling panels offer a highly reflective surface to maximize daylight. Up to 85 percent of all light is reflected off the lightly textured, bright white panel. This results in diffused interior lighting, which creates less glare on screens and monitors, making it easier and more comfortable for students and teachers to read.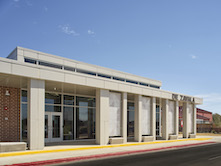 When the building is unoccupied, the district's guidelines recommend setting electric lighting, HVAC and other equipment to "off" or "sleep" mode. Rockfon's modular panels and suspension systems integrate with energy-efficient lighting, high-performance HVAC and fire suppression systems.
Rockfon Sonar panels also are low-maintenance and water-resistant. Even when the HVAC is shut off, these stone wool panels will not sag, rot or warp due to moisture or humidity. Without added chemicals, stone wool naturally resists flame and smoke spread, and does not support the growth of mold, mildew or other microorganisms.
Children are often the most susceptible to microorganisms and to pollutants emitted from building materials. This is because children breathe in more air and, as a result, are absorbing more chemicals that can be harmful to their growing bodies. Since most children spend the majority of their year inside school buildings, these projects deserve extra attention for indoor air quality.
Contributing to De Zavala Elementary School's healthy interior and indoor air quality, Rockfon Sonar has earned UL® GREENGUARD® Gold Certification for low VOC emissions in both offices and schools. Rockfon's third-party Environmental Product Declarations (EPDs) also help Perkins&Will and other architectural specifiers make informed decisions about material transparency and occupant wellness.
The combination of Rockfon's stone wool ceiling panels and metal suspension systems provide a versatile solution to meet school districts' numerous goals. Along with supporting indoor air quality, energy efficiency, optimal acoustics and other performance requirements, the ceilings maintain their high-quality appearance with minimal care and cleaning. Durable products that reduce building maintenance also add value over a facility's lifetime, respecting the taxpayers' investment in public schools.
**
De Zavala Elementary School, 150 De Zavala Dr., San Marcos, TX 78666; https://www.smcisd.net/dezavala
• Owner: San Marcos Consolidated Independent School District (SMCISD); San Marcos, Texas
• Architect: Perkins&Will; Austin, Texas
• Ceiling systems – installing contractor: Southwest Texas Contractors, LLC; San Marcos, Texas
• Ceiling systems – distributor: ISC Building Materials; San Antonio, Texas
• Ceiling systems – manufacturer: Rockfon; Chicago; https://www.rockfon.com
• Photos by: ©Andrea Calo, courtesy of Perkins&Will

About Rockfon
Rockfon is part of the ROCKWOOL Group and is offering advanced acoustic ceilings and wall solutions to create beautiful, comfortable spaces.
At the ROCKWOOL Group, we are committed to enriching the lives of everyone who experiences our product solutions. Our expertise is perfectly suited to tackle many of today's biggest sustainability and development challenges, from energy consumption and noise pollution to fire resilience, water scarcity and flooding. Our range of products reflects the diversity of the world's needs, while supporting our stakeholders in reducing their own carbon footprint.
Stone wool is a versatile material and forms the basis of all our businesses. With approximately 11,500 passionate colleagues in 39 countries, we are the world leader in stone wool solutions, from building insulation to acoustic ceilings, external cladding systems to horticultural solutions, engineered fibers for industrial use to insulation for the process industry, and marine and offshore.
###
---
Filed under: Projects, Rockfon
---
Story Resources
Word document
Request high res photographs for publication