Client News: Kolbe showcases impact performance capabilities
Posted on January 11th, 2022
Kolbe will be exhibiting at the NAHB International Builders' Show in Booth #W3600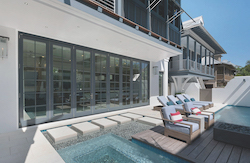 Kolbe Windows & Doors' impact performance products improve air, water and structural ratings or sound transmittance ratings without the need for unsightly brackets or visible rods to hold the sash in place. A consistent appearance is maintained over an extensive variety of products, sizes and configurations, with numerous glass and divided lite options as displayed at the National Association of Home Builders International Builders' Show (NAHB IBS) in booth #W3600.
"Our windows and doors are tested extensively by independent organizations to meet or exceed the strict building codes of the coastal regions," said Kolbe's president, Jeff DeLonay. "For uninterrupted views that also meet the demands of these climates, Kolbe is excited to now offer impact performance capabilities within our VistaLuxe® Collection AL LINE, including lift & slide doors, tilt-turns and direct sets," he added.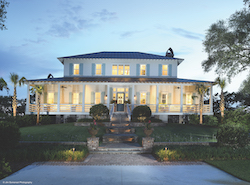 This all-aluminum thermally broken product line is represented in booth #W3600.
A VistaLuxe AL LINE lift & slide door unit meets IPD4 (Wind Zone 4) with a DP65 impact rating. Spanning nearly 10 feet high by 20 feet wide, the center-opening four-panel unit features tempered Solar Low-E glass compression glazed with EPDM gaskets, and an onyx powder-coated interior and exterior finish.
Additionally, with a blend of innovative design, advanced technology, and proprietary Glastra® material, Kolbe's Forgent® Series windows and doors are designed for strength, durability, and impact performance without the need for supplementary reinforcements. Both all Glastra and Glastra/wood Forgent Series products offer impact performance due to the advanced ladder design and multi-chambered Glastra extrusions.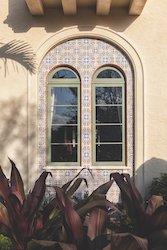 Examples of Forgent Series products that meet IPD3 (Wind Zone 3) or IPD4 (Wind Zone 4) impact certification are shown at IBS:
A Forgent Series complementary sliding door with midnight interiors and exteriors is a center-opening, four-wide unit with 7-foot-8-inch-tall panels and coordinating matte black Allure™ handles. Above the sliding doors are Glastra/wood direct sets and a segment head window with pine interiors painted black.


A Glastra/wood direct set, casement and awning display demonstrates a variety of products that combine to create floor-to-ceiling views. The windows have a bronze exterior and a coffee bean-stained wood interior, with 2-1/4-inch performance divided lites. Matte black nesting handles on the casements and awnings visually blend in, while the frames boldly outline the views.

A Forgent Series Glastra/wood casement with 7/8-inch performance divided lites combines with two direct sets for views and ventilation. With a cloud exterior and a white painted pine interior, this unit is completed with the soft accent of a satin nickel nesting handle on the casement.


An all Glastra two-wide new construction, double hung window unit with a midnight interior and exterior offers a 6-foot-11-inch by 5-foot-5-1/2-inch opening. Black 3/4-inch contoured grilles-in-the-airspace add detail to the top sash, while matte black hardware completes the unit.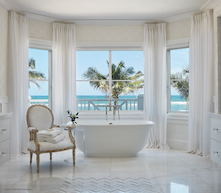 In addition to the displays featured at IBS, Kolbe offers a range of products from its Ultra Series and Heritage Series that offer IPD3 (Wind Zone 3) and IPD4 (Wind Zone 4) impact ratings. From crank-out casements and awnings to Sterling double hungs, swinging and sliding doors, Kolbe's impact-certified products offer endless style options, performance, and peace of mind in coastal regions, hurricane zones, and areas with extreme weather conditions. Also available is a selection of products with High Velocity Hurricane Zone Large Missile Impact (HVHZ LMI) certification.
For specific information, including configuration and maximum size tested, please visit http://www.kolbewindows.com/impact.
What began in 1946 as a two-brother team has grown into an internationally respected manufacturing company. Kolbe Windows & Doors is one of the nation's leading manufacturers of windows and doors for residential and commercial markets. After 75 years, Kolbe products are best known for superior quality, custom craftsmanship, attention to detail, as well as innovative and unique designs.
###
---
Filed under: Events, Kolbe Windows & Doors, Products
---
Story Resources
Word document
Request high res photographs for publication