Client News: Renovation of New York's Brighton Towers includes 1,000+ high-performance Wausau windows
Posted on February 12th, 2016 by Heather West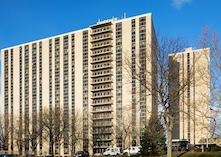 Rochester Management, Inc. (RMI), a not-for-profit property developer and property management firm located in Rochester, New York, has been involved in the management of Brighton Towers' apartments since their construction in the early 1970s. With providing high-quality, affordable housing at the heart of its mission, RMI was intent on planning a major renovation of the property that would update the property and preserve it as affordable housing for seniors for many years to come.

The result was a $19 million renovation financed through the New York State Housing Finance Agency, which utilized low-income housing tax credits purchased by Stratford Investment Group. The renovation included new kitchens, energy-smart appliances, common area improvements, updated fire alarm system, emergency generators and new windows for all units. In total, more than 1,000 new, high-performance units from Wausau Window and Wall Systems were installed.

"The window portion of the project was the top priority," says RMI's president, Peggy Hill. "The existing windows were very difficult for residents to operate and were no longer effective from an energy conservation and comfort standpoint."

Having successfully accomplished several similar high-rise window and curtainwall replacements projects within RMI's portfolio, Hill knew that having the right team was a critical piece of planning the project. She notes, "This project, as with the others, required team members who would be able to develop accurate schedules and work well with senior residents occupying the apartments. In light of the need for asbestos abatement and air monitoring, the team members needed the ability to work cohesively with other contractors."

RMI, working as developer, selected LECESSE Construction Services as the general contractor and Konopka Architecture to lead the project. Hill explains, "Both firms had proven track records with prior RMI affordable housing projects. LECESSE was well versed in developing integrated construction schedules in occupied buildings  RMI had excellent results utilizing Wausau's window products in prior high-rise projects and this was factored into the design of the Brighton Towers window replacement system."

Mike Konopka, president of Konopka Architecture, elaborates, "Not only did Wausau provide a competitive bid, they offered a slightly improved system for Brighton Towers. They also engineered it as a unitized system to span floor-to-floor and help the installation go quickly."

According to Hill, RMI had been pleased with the installation work done by Ajay Glass in another high-rise with more than 200 units. She adds, "RMI was most concerned about the impact to the Brighton Towers residents throughout the construction process. The project was achieved throughout the winter and the residents returned to their apartments each night. Staying on schedule and reaching daily targets was imperative. The team assembled was dedicated and determined to achieve the desired results with as little disruption to the residents as possible."

"The owner, architect and general contractor knew they could count on us to meet their expectations. Aesthetics were a primary concern, but improved comfort for the residents and long-term durability also were key considerations," says Kevin Robbins, account executive with Apogee's Building Retrofit Strategy who consulted with Wausau Window and Wall Systems. "The architect designed the project to have large sliding windows, which incorporated transoms. It was very important that the new windows looked good, worked well and were easy to maintain."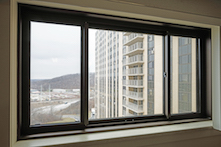 Wausau provided 684 units, each with a 4100i-HS Series Double Slide horizontal rolling window positioned above three lites of spandrel, and an additional 456 units with a 4100i half-slide window over one lite of spandrel. Along with the sliding window unit configurations, Wausau fabricated 152 units of 2250i Series INvent™ Series project-out awning windows over one lite of spandrel. Another 72 units of 4250i-OS Offset INvent Series windows were installed where the spandrel lites are positioned above the fixed windows.

All Wausau's windows units are constructed using extruded aluminum framing members with polyamide thermal barriers for durability and energy efficiency. Konopka specified a bronze color anodize finish to complement Brighton Towers' beige brick exterior and to minimize maintenance. Linetec anodized nearly 69,000 square feet aluminum for the windows on this project.

"The selected windows met Brighton Towers' performance requirements for energy; for air, water and structural; and offered an additional improvement for sound transmission. Wind also was a key issue for this project. Wausau's products are higher end and longer lasting than many on the market," says Konopka.

In total, Ajay Glass installed 1,365 of Wausau's window units. All these windows are part of the Advantage by Wausau® offering to provide high-performance, pre-engineered, standard products at a competitive price and on an accelerated schedule. "We created an aggressive phasing plan that finished the entire Brighton Towers project in less than 10 months. Coordination with the subcontractors, owner and residents drove our project to success. Ajay was great to work with in the field," says Brent Heywood, project manager with LECESSE.

Guided by LECESSE, Ajay Glass completed the window replacement portion of the project in eight months, starting in Nov. 2014 and finishing in July 2015. To keep the project progressing smoothly, Ajay Glass arrived daily with approximately 20 people plus up to 10 more people from AAC Contracting environmental remediation services. On average, the team could install 12 window units each day. Extra efforts were made to minimize disruption as the building remained occupied throughout the renovation.

Ajay Glass CEO Jim Stathopoulos, P.E., notes, "The LECESSE site superintendents, Ajay superintendent and AAC superintendent worked together very well. The building staff was also exceptionally helpful. The building occupants were very understanding and pleasant to deal with."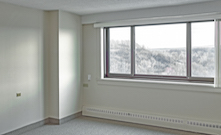 He adds, the new Wausau windows "have a much nicer appearance, are easier to operate. The low-e coating and thermally broken aluminum are substantially better than the old windows."

"The windows are also gorgeous and make the building look much newer than it really is," observes LECESSE's Heywood. "Wausau was a great supplier to work with: They were right on time with their shipments based on our needs. I would recommend Wausau for any other job I'm on."

In addition to the window replacement, Brighton Towers' renovation project included updates to the kitchens, lobby areas and the fire alarm system. All apartments include a refrigerator, an electric range, generous closet and cupboard space, and modern baths with special safety equipment. There are security access doors to the building and 24-hour emergency apartment maintenance seven days a week. With a mini grocery store, beauty salon, fitness center and wide range of activities for the residents, Brighton Towers is a community within itself.
 

Brighton Towers; 821 East Brighton Ave., Syracuse, New York 13205; http://rochestermanagement.com/apartment/brighton-towers/
* Owner: Syracuse Senior Citizens Project Corp.; Rochester, New York
* Redeveloper: Brighton Towers Redevelopment LLC; Syracuse, New York
* Property manager: Rochester Management Inc.; Syracuse, New York; http://www.rochestermanagement.com
* Architects: Konopka Architecture; Rochester, New York; http://www.konopkaarchitecture.com
* Construction manager: LECESSE Construction Services; West Henrietta, New York; http://www.LECESSEconstruction.com
* Environmental remediation: AAC Contracting, Inc.; Rochester, New York; http://www.aac-contracting.com
* Exterior cladding contractors: Ajay Glass Co.; Canandaigua, New York; http://www.ajayglass.net
* Window renovation strategists: Apogee Enterprises, Inc., Building Retrofit Strategy Team; Minneapolis; http://www.apog.com
* Window systems – manufacturer: Wausau Window and Wall Systems, an Apogee Enterprises company; Wausau, Wisconsin; http://www.wausauwindow.com
* Window systems – finisher: Linetec, an Apogee Enterprises company; Wausau, Wisconsin; http://www.linetec.com
* Photos provided by: LECESSE Construction Services, courtesy of Apogee's Building Retrofit Team.
 

About Apogee Enterprises, Inc.'s Building Retrofit Strategy Team
Apogee Enterprises, Inc.'s Building Retrofit Strategy Team assists building owners and property managers evaluate the benefits of window renovation and upgrades, such as improving the appearance of the building, saving energy, downsizing HVAC loading, reducing maintenance, lowering vacancy rates, increasing rental rates and enhancing the value of the building. The team offers free energy modeling, product selection and design assistance, and a network of installers covering North America.
 
To learn more, please contact John Bendt at jbendt@apog.com, 612-790-3137, or Kevin Robbins at krobbins@apog.com, 715-409-0821.
 
 
About Wausau Window and Wall Systems
Part of Apogee Enterprises, Inc., and nationally recognized for its innovative expertise, Wausau Window and Wall Systems is an industry leader in engineering window and curtainwall systems for commercial and institutional construction applications. For more than 55 years, Wausau has worked closely with architects, building owners and contractors to realize their vision for aesthetic beauty, sustainability and lasting value, while striving to maintain the highest level of customer service, communication and overall satisfaction.
 
Wausau and its staff are members of the American Architectural Manufacturers Association (AAMA), the American Institute of Architects (AIA), the APPA – Leadership in Educational Facilities, the Construction Specifications Institute (CSI), Glass Association of North America (GANA), the National Fenestration Ratings Council (NFRC) and the U.S. Green Building Council (USGBC).
###
---
Filed under: Apogee - Retrofit, Linetec, Projects, Wausau Window and Wall Systems
---
Story Resources
Photo 1; Credit photo provided by LECESSE Construction Services, courtesy of Apogee's Building Retrofit Team
Photo 2; Credit photo provided by LECESSE Construction Services, courtesy of Apogee's Building Retrofit Team
Photo 3; Credit photo provided by LECESSE Construction Services, courtesy of Apogee's Building Retrofit Team
Word document
Request high res photographs for publication