Client News: The Liberty Hotel's historically accurate replacement windows contribute to its architectural heritage and its transformation from jail to hotel
Posted on January 8th, 2016 by Heather West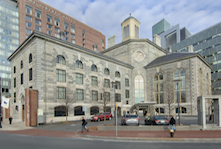 When baseball superstar Babe Ruth toured Boston's Charles Street Jail in 1925, he famously quipped: "This isn't a jail, it's a hotel," a prophecy that has since come true. Now known as The Liberty Hotel, this 298-room, high-end hospitality destination retains its architectural heritage with its famed rotunda, jail-themed bars and restaurants, and its historically accurate replacement windows.
"Our area is filled with historic properties that have old steel-framed, single-pane windows. Custom Window™ by Wausau's products carefully mimic the sightlines, true divided lights and arched tops of these original windows, and bring the high performance of modern aluminum frames and low-e glass," described Dan Cherney, Wausau's architectural sales representative for Boston. "Little did the 19th-century prisoners at Charles Street know they were resting on what would become $500 per night space in a prime city location."
From 1851 to 1990, the Charles Street Jail hosted such notorious "guests" as former Boston Mayor and later Governor James Michael Curley, Malcolm X, and Sacco and Vanzetti. The building "resonated with a strength and dignity appropriate for the era and for Bostonians' sensibilities," said historians.
Architect Gridley James Fox Bryant, widely considered Boston's most accomplished architect of 19th century, designed the original penitentiary. A proponent of the "Granite Style," Bryant embraced the many technological and social changes of the age, forming strategic partnerships with other architects and reformers. On the Charles Street Jail, he collaborated with Rev. Louis Dwight, a prominent Yale-educated penologist with an active interest in and advocacy for prison reform.
"What is fame in architecture in these latter days?" Bryant wrote towards the end of his life. "Is it to witness the demolition of radical remodeling of an architect's work, with less than a century of its real usefulness about it?"
Through restoration, reuse and reinvention, this abandoned structure was reborn as a vital commercial development that complements the urban fabric of its Beacon Hill neighborhood. With respect to Bryant's intention and inspired by his progressive vision of the future, Cambridge Seven Associates worked with preservation architect Ann Beha Architects (ABA), and developers Carpenter & Company in the early 2000s to reimagine the property as an exclusive hotel and hospitality venue.
Like the design team, Wausau's Cherney emphasized, "The most sustainable project is one that improves on what's already built. Thoughtful, historic renovation achieves high standards for technical and operational performance, preserves character-defining features, while successfully meeting the needs of the users now and long into the future."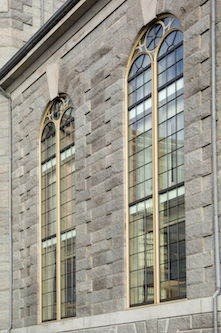 To match exact, historic details, Custom Window by Wausau 8300 Series windows include true divided lites and custom-machined grilles to honor the landmark structures in which they are installed. Cherney explained, "In the years prior to World War II, glassmaking technology limited the size of individual glass lites. Only true divided lites can reproduce this aesthetic with the fidelity required for rigorous historical preservation."
For more than 30 years, hotels, universities, courthouses, museums, libraries, schools, high-rise residences and other commercial buildings have relied on Wausau Window and Wall Systems' products to meet both renovation and new construction applications. Wausau's project teams work with architects, building teams and state historic preservation offices to assist in obtaining necessary aesthetic and performance approvals, gaining tax credits and achieving long-term objectives. Thermal barrier framing contributes to building's energy saving goals and condensation resistance.
Cherney advised, "Replication is about the entire opening, not just the window. The product must be easy to install and anchor correctly. Appropriate sills and trim must be provided to complete the window and blend it seamlessly with the opening and the building itself. If a window doesn't do all these things, it's simply not measuring up."
Custom Window by Wausau products include fixed and project-in or project-out casements; self-balancing double-hung windows; fixed and projected, simulated double-hung windows; hopper vents and historic glazing inserts for swinging terrace doors. Available on an accelerated delivery schedule, these competitively priced windows and doors are backed with an industry-leading warranty of up to 10 years.
Custom profiles can be designed for panning, perimeter framing or muntins, including panning systems with "T" mullions to echo existing profiles. These aluminum components may be specified with up to 70 percent recycled content and finished with liquid paint, powder coatings or anodize. Dual-color finishing can be accommodated to match different interior and exterior color schemes. With a palette exceeding 30,000 color choices, painted finishes may be requested with ultra-low volatile organic compounds (VOC) and VOC-free content. Durable, VOC-free anodize finishes also may be selected, such as a patina-free copper.
Where conservators can sample complete stratigraphies, and original colors are unlikely to have degraded, durable fluoropolymer paints can be custom-formulated to meet conservators' goals for authenticity – not only for exterior colors, but also in lobbies, entrance vestibules, corridors, auditoriums, libraries and other interior public spaces.
In addition to maintaining much of its historic structure and aesthetic, The Liberty Hotel's previous function continues in theme with a restaurant called Clink, a bar in the jail's former "drunk tank" called Alibi and a private patio for summer cocktails called The Yard.
Reopened in the summer of 2007, The Liberty Hotel now is owned by the Starwood Hotels & Resorts Worldwide, Inc. One of the leading hotel and leisure companies in the world, Starwood has more than 1,270 properties in some 100 countries and over 180,000 employees at its owned and managed properties. The Liberty Hotel is part of The Luxury Collection -- a group of unique hotels and resorts enabling the most discerning traveler to collect a world of unique, authentic and enriching experiences indigenous to each destination that capture the sense of both luxury and place.
**
The Liberty Hotel; 215 Charles St., Boston, MA 02114; http://www.libertyhotel.com
* Owner: A Luxury Collection Hotel, Starwood Hotels & Resorts Worldwide, Inc.; Stamford, Connecticut; http://www.starwoodhotels.com
* Architect – renovation: Cambridge Seven Associates, Inc.; Cambridge, Massachusetts; http://www.c7a.com
* Architect – preservation: Ann Beha Architects; Boston; http://www.annbeha.com
* Developer: Carpenter & Company, Inc.; Cambridge, Massachusetts; http://carpenterandcompanyinc.com
* Glazing systems – window manufacturer: Custom Window, now a brand of Wausau Window and Wall Systems; Wausau, Wisconsin; http://www.wausauwindow.com
* Project photos: Bill Horsman Photography
###
---
Filed under: Projects, Wausau Window and Wall Systems
---
Story Resources
Word document
Request high res photographs for publication