Client News: Rockfon factory in Marshall County, Mississippi officially inaugurated
Posted on October 18th, 2017 by Heather West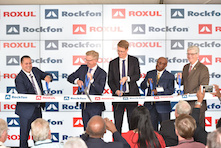 Marshall County, Mississippi (Oct. 18, 2017) – Rockfon, a subsidiary of Denmark-based ROCKWOOL International A/S, celebrated a grand opening for the new North America facility and three months of uninterrupted production. The 130,000-square-foot (12,000-square-metre) manufacturing facility started production in July and has been functioning well ever since, with the first deliveries of its acoustic stone wool ceiling panels already having been made to U.S. customers.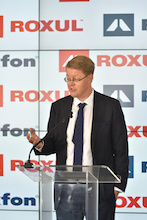 ROCKWOOL Group CEO Jens Birgersson cut the ribbon at the opening ceremony. He was joined by the Governor of Mississippi Phil Bryant, plus other state and local government officials, customers and employees. Birgersson states, "The U.S. market is increasingly important for Rockfon and the ROCKWOOL Group. This new manufacturing facility expands our North American capacity and will help us meet the growing demand here for acoustically advanced stone wool ceiling products. Paving the way for further growth, the facility brings us closer to our customers, shortens delivery time, and cuts transportation costs and environmental impact."
Attending the ribbon-cutting alongside the Group CEO and other state officials, Mississippi Governor Phil Bryant commented, "Rockfon's grand opening coincides with the ROCKWOOL Group's 80th anniversary and serves as a strong testament to the success and continued growth of this company. It's also indicative of the competitive advantages a Marshall County location offers for industry-leading companies building foundations for growth in today's fast-moving economy."
"Made in the U.S.A." brings Rockfon closer to customers
The state-of-the-art facility represents a USD $40 million investment for ROCKWOOL Group. Employing about 90 people, it is located next to an existing ROXUL* factory in Marshall County, Mississippi, about 30 miles (50 km) from Memphis, Tennessee. It means that Rockfon now can say that its complete ceiling systems are "Made in the U.S.A."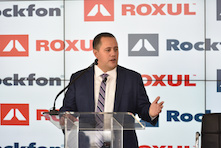 "Since Rockfon entered the North American market in 2013, we've been working hard to meet the growing demand for high-quality stone wool acoustic and other ceiling products. This new facility allows us to respond to market demands and service customer needs more quickly and efficiently – and to do so with products we're proud to say are 'Made in the U.S.A.'," says Rockfon President – Americas John Medio.
* ROXUL rebrands to ROCKWOOL on Jan. 1, 2018. The rebranding will align ROXUL Inc. with all ROCKWOOL subsidiaries that have assumed a new, cohesive brand identity.
About the ROCKWOOL Group
At the ROCKWOOL Group, we are committed to enriching the lives of everyone who experiences our solutions. Our expertise is perfectly suited to tackle many of today's biggest sustainability and development challenges, from energy consumption and noise pollution to fire resilience, water scarcity and flooding. Our range of products reflects the diversity of the world's needs, while supporting our stakeholders in reducing their own carbon footprint.
Stone wool is a versatile material and forms the basis of all our businesses. With approximately 10,500 passionate colleagues in 38 countries, we are the world leader in stone wool solutions, from building insulation to acoustic ceilings, external cladding systems to horticultural solutions, engineered fibers for industrial use to insulation for the process industry, and marine and offshore.
About Rockfon
Part of the ROCKWOOL Group, Rockfon is a leading provider of acoustic stone wool ceiling panels, as well as specialty metal ceiling products and suspension systems. Its stone wool ceiling panels consist of up to 42 percent recycled content. The rest is made primarily of basalt rock – a natural material in essentially limitless supply. Rockfon has been operating in North America since January 2013. In October that year, Chicago Metallic®, a provider of ceiling suspension systems and specialty metal ceilings, became part of the ROCKWOOL Group to complement the Rockfon ceiling system product offering.
About ROXUL
Part of the ROCKWOOL Group, ROXUL Inc. has five factories and plants in North America and 1,000 employees. It is North America's largest stone wool producer, offering advanced building insulation, industrial and technical solutions. In July, ROXUL Inc. announced the establishment of a new manufacturing facility in Jefferson County, West Virginia.
###
---
Filed under: Events, Products, Rockfon
---
Story Resources
Photo: John Medio, Rockfon President – Americas
Word document
Request high res photographs for publication