Client News: Rockfon Infinity Perimeter Trim helps designers create ceiling clouds, islands, light coves, projections, dramatic transitions
Posted on April 17th, 2017 by Heather West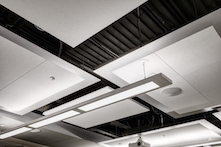 Rockfon® Infinity™ Perimeter Trim provides an attractive, smooth, distortion-free, pre-fabricated perimeter that integrates with standard ceiling suspension systems for acoustical and drywall construction. This metal perimeter trim offers a neat, clean edge for ceiling clouds, free-floating islands, projected accents, light coves and dramatic transitions between ceiling heights.
Available in straight 12-foot standard lengths or factory-curved to project requirements, Infinity Perimeter Trim may be specified in a choice of profiles and sizes that include standard, razor, revealed and concealed designs. Paired bracket perimeter trim can be installed back-to-back for visual details including double-sided circles, ribbons and arcs.
When Infinity Perimeter Trim is integrated with suspended ceiling systems, the finish may be specified in a breadth of colors. When using Infinity D for drywall applications, the trim is primed for field painting.
Infinity Perimeter Trim is factory-engineered using sturdy extruded aluminum. The metal contains no organic compounds to support mold and microbial growth, contains 100 percent recycled content and, at the end of its use as part of a ceiling system, it can be locally recycled.
Rockfon clearly marks components for easy assembly. For fast-track construction projects, consider Quick Ship Infinity Perimeter Trim stocked with straight panels in 2-, 4- and 6-inch heights for immediate shipment.
The wide range of perimeter trim solutions from Rockfon includes:
* Infinity CDX/SCD Engineered Perimeter Trim for suspended ceilings seamlessly integrates with Rockfon Alaska® and Sonar® concealed ceiling panels' CDX or SCD edge designs. This 6-inch profile allows for a small reveal (SCD) or no reveal (CDX) in new Razor and Square face options.
* Infinity Standard Perimeter Trim includes straight lengths from 2 to 12 inches and allows for shorter lead times on straight sections and factory-mitered 90-degree corners.
* Infinity R Reveal Edge Perimeter Trim is 4 inches high and well suited for creating floating islands from factory-engineered components with a continuous reveal along the outer edge.
* Infinity Z Razor Edge Perimeter Trim gives the ceiling the appearance of being zero-depth. The smooth, flat, 6-inch-wide trim provides an ideal profile for reveal edge floating islands.
* Infinity D Drywall Perimeter Trim is a factory-engineered alternative to built-up drywall framing. Offered in a variety of perimeter depths and 4-, 6- or 8-inch heights, Infinity D accepts standard 5/8-inch stone wool ceiling panels. Simplifying installation, it includes grooved and primed taping flanges for drywall compound and paint.
To learn more about Rockfon stone wool ceiling panels, metal ceiling panels and suspension systems, please visit www.rockfon.com. For additional support, please call 800-323-7164 or email cs@rockfon.com.
About the ROCKWOOL Group
At the ROCKWOOL Group, we are committed to enriching the lives of everyone who comes into contact with our products. Our expertise is perfectly suited to tackle many of today's biggest sustainability and development challenges, from energy consumption to noise pollution and water scarcity to flooding. Our range of products reflects the diversity of the world's needs, supporting our stakeholders in reducing their own carbon footprint along the way.
Stone wool is a versatile material and forms the basis of all our businesses. With more than 10,500 passionate colleagues in 38 countries, we are the world leader in stone wool solutions, from fire-resistant, high-performing building insulations to acoustic ceilings, forward-designed external cladding systems to horticultural solutions, engineered mineral fibers for industrial use to insulation for the process industry, marine and offshore. For more information, visit: www.rockwool.com.
###
---
Filed under: Products, Rockfon
---
Story Resources
Word document
Request high res photographs for publication