Client News: Erika L. Heredia R. named as Alumicor's continuous improvement director
Posted on July 5th, 2021 by Heather West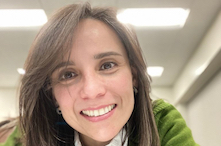 Toronto (July 2021) – Alumicor Limited welcomed Erika L. Heredia R. as the company's continuous improvement director. Reporting to Dean Seger, vice president of integrated supply chain, Heredia focuses on lead the implementation of lean manufacturing initiatives across all six North American locations for both Alumicor and Tubelite Inc.
Heredia draws from a decade of leadership in Apogee Enterprises Inc.'s family of businesses including at Viracon, at Tru Vue and now at Alumicor and Tubelite. She most recently served as Viracon's continuous improvement manager and previously as the coatings production manager. Heredia has extensive Six Sigma training and completed Apogee's 17-month Lean Six Sigma Black Belt management trainee program. She applied this knowledge as a lean Six Sigma Black Belt at Tru Vue.
In addition to her professional experience, Heredia earned a master's degree in production and management, and industrial process improvement from OBS Business School through Spain's Barcelona University. Fluent in Spanish, she also has Master of Science/Technology in manufacturing and management with a concentration in occupational safety from Georgia Southern University. In addition, she holds a bachelor's degree in commercial engineering from the Ecuador's University Army Polytechnic School.
To learn more about Alumicor's personnel, products and programs, please visit Alumicor.com. For information on employment opportunities at Alumicor, please click on "Careers" in the navigation menu.
About Alumicor, Ltd.
Alumicor is a Canadian-based supplier of Architectural Aluminum building envelope products. With corporate offices in Toronto, Alumicor services the North American market through three manufacturing facilities in Winnipeg, Manitoba; Dartmouth, Nova Scotia; and Toronto.
Founded in 1959, Alumicor has earned respect and recognition for technical competence, responsiveness and integrity. Alumicor joined Apogee Enterprises, Inc.'s family of businesses in 2013, which includes Tubelite Inc., an industry leader in eco-efficient storefront, curtainwall and entrance systems in the United States. In 2020, Alumicor combined with Tubelite. This strengthens Alumicor's ability to provide an unrivalled level of customer support, an expansive product portfolio and dependable service.
Alumicor and its staff are members of numerous construction associations including Construction Specifications Canada (CSC), Ontario Glass and Metal Association (OGMA), and Ontario Building Envelope Council (OBEC).
###
---
---
Story Resources
Portrait: Erika L. Heredia R.
Word document, English
Word document, French
Request high res photographs for publication