Association News: AAMA releases new standard test method of static loading and impact on exterior shading devices
Posted on March 24th, 2017 by Heather West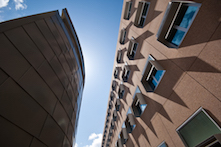 The American Architectural Manufacturers Association (AAMA) recently released a new document to provides a standard laboratory procedure for exterior shading devices and the project-specific evaluation of downward static ice and snow loads, and impacts on them from falling ice or snow. AAMA 514-16, the "Standard Test Method of Static Loading and Impact on Exterior Shading Devices," uses sandbags to simulate downward loads from ice and snow to test shading devices.
"Exterior sun shades are used to reduce solar heat gain and glare, and redirect natural daylight," said Steve Fronek (Wausau Window and Wall Systems), co-chair of the APG Shading Device Task Group. "AAMA 514 was created to provide design professionals with a consistent, repeatable, test method to help in assessing the effects of snow build-up and ice impact on exterior shading devices. Accretion and release of a certain amount of ice and snow should be considered inevitable in most U.S. climates."
While sun shades and other exterior projections are both sources and targets of falling ice and snow, they should not be considered protection from them, noted Fronek.
"AAMA 514 simulates the accumulation of snow and ice loads by the application of sandbags while monitoring deflections to ensure the product remains within acceptable visual limitations," said Greg McKenna (Kawneer), also co-chair of the APG Shading Device Task Group. "A safety factor is also included in an overload test. In addition to testing full-size mock-up assemblies for static and impact loads, guidance is given on conducting component tests on the individual structural elements of the sun shade."
Following AAMA 514 will help to ensure that the specified sun shade product has been properly designed and tested to meet the anticipated loads during its service life, McKenna said.
AAMA 514-16, as well as other AAMA documents, may be purchased from AAMA's online store. More information about AAMA and its activities can be found on the AAMA website, www.aamanet.org.
AAMA is the source of performance standards, product certification, and educational programs for the fenestration industry.SM
###
---
Filed under: FGIA, Products, Wausau Window and Wall Systems
---
Story Resources
Video: AAMA 514, 300 Ft-Lb Test Fail
Video: AAMA 514, 150 Ft-Lb Test Pass
Request high res photographs for publication