Association News: Early bird registration for inaugural FGIA Annual Conference open through Jan. 17 - Speakers to cover leadership, trade, immigration, more
Posted on December 16th, 2019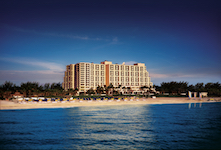 Registration is now open for the inaugural Fenestration and Glazing Industry Alliance (FGIA) Annual Conference, the new home for American Architectural Manufacturers Association (AAMA) and Insulating Glass Manufacturers Alliance (IGMA) content. The conference will be held Feb. 10-13 in Fort Lauderdale, Florida, at the Marriott Harbor Beach Resort. The early bird rate is guaranteed through Jan. 17, and attendees are encouraged to book before this date. The AAMA Southeast Region 2020 Winter Meeting will immediately follow the conference in the same location. Separate registration is required. Attractions at the "Havana Nights" themed event will include the annual awards banquet, a beach party, a scavenger hunt and more.
Keynote Speaker | Servant Leadership
Keynote speaker Jim Hunter of J.D. Hunter Associates will discuss Servant Leadership, the rapidly emerging leadership philosophy being practiced by many of the world's most successful organizations. Servant Leadership is a model of developing leaders of character who lead through authority and influence rather than simply relying upon power and coercion. According to Hunter, more than one-third of Fortune magazine's "100 Best Companies to Work For" practice the disciplines of Servant Leadership. Hunter will talk about the differences between management and leadership, including the distinction between managing things and leading people.
Business Speaker | Trade, Labor, Immigration
John Manzella, global business and economic analyst and operator of the Manzella Report, will lead a one-hour roundtable discussion and brief presentation on trade, labor and immigration. This session will give senior managers an opportunity to gain important analysis, share collective knowledge, best practices and insight, and discuss obstacles, problems, solutions and strategies in a confidential environment. Subjects will include the U.S.-China trade war, the new NAFTA and European trade issues, as well as the worsening skills deficit, rising wages, automation and immigration policies in the U.S. and Canada.
Networking Opportunities
While in the Fort Lauderdale area, participants may take advantage of visiting with local customers and colleagues while also networking with industry peers. One opportunity for this is the Rich and Diane Walker Cup, FGIA's golf tournament at the Jacaranda Golf Club.
Alternately, the conference will be hosting a scavenger hunt on golf carts to explore Fort Lauderdale. Teams must work together to research riddles and take a photo or video of a landmark or travel on foot to reach specific buildings.
Q-Lab will be hosting a complimentary homestead tour, which includes lunch and a technical site tour of Q-Lab Florida. Technical experts will be onsite to teach about the effects of weathering on materials.
A complimentary 5K walk/run will take place during the week, as well. Separate registration is required for all optional events.
To register, visit https://aamanet.org/events.
###
---
Filed under: FGIA
---
Story Resources
Word document
Request high res photographs for publication